Name
Allison Croghan
Boyfriend / Wedding & Marriage / Husband / Engaged
Currently not married, possibly single. Check the full bio for relationship details.
Wikipedia Biography / Profile Information
Introduction :
Allison Croghan, the young St. Louis native and "Ole Miss alumna," is a meteorologist for Fox 13 News. Over the years, her solid performance as a meteorologist has helped her bag multiple awards in the broadcasting industry.
Personal Life : Parents & Family Background
Allison was born and raised in St. Louis, Missouri.
Her parents' names are Mike Croghan (father) and Debbie Croghan (mother), who still live in south St. Louis County.
She is one of three children but is the only girl.
Education : Qualifications, High School & College Info
Croghan attended Cor Jesu High School in St. Louis, Missouri, and was a part of the graduating class of 2007.
In high school, Allison was the editor of the school's yearbook. She was also the editor of Louie Magazine, a publication with a teenage audience also written by teenagers.
After high school, she attended the University of Mississippi from 2007 to 2011 to pursue a degree in Journalism. She had first declared her major as Print Journalism before switching to Broadcast Journalism soon after. She also pursued a minor in English with a focus on public relations.
While pursuing her undergraduate degree, Croghan was a member of the Ole Miss Society of Professional Journalists, as well as the Phi Mu Fraternity for Women.
Allison studied abroad for a semester at the CAPA London Center at Imperial College London as part of an affiliate program of the University of Mississippi.
In 2012, she enrolled in Mississippi State University's Distance Meteorology Program to study Atmospheric Science. She completed this program in 2015.
Professional Life & Career :
While in college, Allison's first internship was at KMOX 1120 in St. Louis, Missouri, as a sports intern. She did this in the summer of 2009. She was given the opportunity to represent the station at the Major League Baseball Fanfest that summer.
Allison then interned at ESPN in Bristol, Connecticut, during the summer of 2010. Here, her title was "Programming Content Screening Intern."
She also interned at WREG in Memphis, ESPNU, and for the baseball team, the Memphis Redbirds.
Her first on-air job was as a General Assignment Reporter at KSN in Joplin, Missouri, from June 2011 to May 2012. She reported for Your Hometown News and co-anchored the Morning Show.
In 2012, she moved to Salt Lake City, Utah, to work at Fox 13 News while earning her degree in Meteorology. Not only is Allison a meteorologist for Fox 13, but she is also a social media anchor for Fox 13's Good Day Utah.
Allison Croghan Salary & Net worth :
As per Salary(dot)com, the average median salary of a Meteorologist from Salt Lake City is $80,054 per year. The salary range is $73,868 to $118,732 annually. ZipRecruiter gives the average salary as $60,862/year, while the Glassdoor website mentions $67,887 annually for the same position.
Drawing from this data, we get a rough estimate of Allison's salary. Considering her work experience, her annual income will be in the range of figures mentioned above.
Interesting Facts & Trivia :
Allison enjoys hiking and yoga as forms of exercise. She has a dog "Archie", with whom she often indulges in long walks or hikes.
Even though she is a meteorologist, Croghan loves sports and her favorite internship was the one at ESPN.
At the start of her first job at KSN, Allison covered the aftermath of one of the most destructive and deadliest tornadoes in US history, which killed 158 people.
She also participated in Dancing with the Joplin Stars while working at KSN in 2011 and won the Judges' Choice award. Michael Bowen was her professional dancing partner.
Croghan was named in one of the "20 in Their 20's" list by Utah Magazine in November 2016. She was also the runner-up of the UTAH'S BEST WEATHER REPORTER (2016) list.
In 2019, a viewer Kelly Leftwich sent Croghan a Facebook message in which she said "you look fat in blue" and told her that she is not married since she is "still digging for gold." Allison called out Kellie and publicly shamed her for this troll.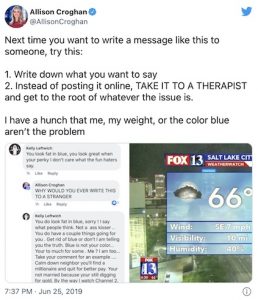 Body Info / Physical Features
Allison Croghan Measurements :
Eye Color : Green
Haircut / Hair Color : Blonde
How tall is Allison Croghan Height : 5' 8"
Feet / Legs / Boots / Shoe Size : No confirmed information available.
Pregnant ? : Currently, she is not expecting a baby.
Allison Croghan Married? : No
Children / No of Kids : Zero
Ethnicity / Origin / Heritage / Race : White
Nationality : American
Date of Birth / Birthday / How old is Allison Croghan Age
June 5, 1989. As of 2022, she is around 33 years old.