Name
Maureen O'Boyle
Date of Birth / Birthday / Age / How old is Maureen O'Boyle
July 14, 1963. As of 2021, she is around 58 years old.
Biography Profile / Wikipedia Information
Introduction :
Maureen O'Boyle is an American news anchor and presenter, most popular for the segment "Stretching Your Dollar," which broadcasts on WBTV News in Charlotte, NC.
Personal Life, Parents & Family Background :
Maureen Jeralyn O'Boyle was born on July 14, 1963, in Charlotte, North Carolina.
She was one of the 10 children of parents – Jerome Edward O'Boyle (father) and Joan Minor O'Boyle (mother).
She moved back and forth from New York to England every 2 years due to her father's work with Xerox.
Upon starting their family business, "Timeplanner Calendar," they returned to settle in Charlotte in the USA. The multi-million company was managed by her 6 brothers and later sold off in 2007.
Education :
O'Boyle graduated from West Charlotte High School (class of 1981).
Later, she studied Journalism at the East Carolina University.
While still in university, Maureen was a part of the campus radio station WZMB.
Maureen O Boyle Husband & Daughter :
O'Boyle gave birth to a daughter, Keegan O'Boyle on September 8, 1999.
Keegan's father is an independent filmmaker, Kerry Prior.
Maureen and Kerry are not married.
Maureen O Boyle Rape Case :
Maureen disclosed to the People magazine that she was raped in 1986 when she was in Macon, Georgia. The rapist had broken into her apartment while she was asleep.
The rapist, whose name was James Starling, was apprehended after a second rape and was sentenced to 50 years in prison.
However, after 30 years behind bars, James was up for parole. Upon discovering the news, Maureen started a petition to prevent him from getting out on parole. Her petition was successful.
Work on TV, Salary & Net Worth :
In 1986, Maureen joined an NBC affiliate, WITC as a broadcaster/producer for morning news breaks.
She also worked with WNCT in Greenville on weekends at the time.
Maureen dropped out of university to work for WECT in Wilmington, North Carolina as a night reporter & was later promoted to a noon anchor.
After that, she became co-anchor and reporter for WMAZ in Macon, Georgia.
Maureen, later on, moved to Spokane, Washington, to join KREM 2, a CBS affiliate, to become the main anchor.
She replaced Maury Povich to be the main anchor for A Current Affair in 1990 for five years, after which she anchored and reported for Extra during weekends.
She departed from Extra to host her own show In Person. She returned to Extra after one season.
In 1999, she dropped her career to be a full-time mother. She returned in 2004 as the main anchor for WBTV.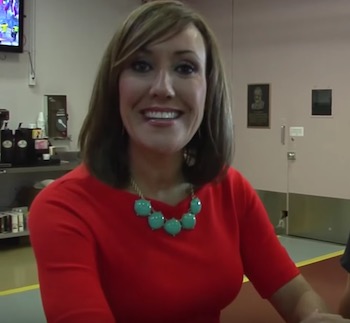 Film Career :
Maureen has been cast in several short movies and commercial videos over the years:
Herself – So I Married an Axe Murderer (1993)
Waitress – Ground Zero Texas (1993)
Ann – Time Wars (1993)
Herself – Undisputed (2002)
Deirdre – The Clown (2009)
Mom – The Slipping Stone (2010)
Extra (as concert audience) – The Harpist (2014)
Charity Works :
Maureen is an active supporter of multiple charity organizations. They include:
Assistance League of Charlotte
American Red Cross Greater Carolinas Chapter
Second Harvest Food Bank of Metrolina
American Heart Association
Community Blood Centre of the Carolinas
Dress for Success
St. Jude Children's Research Hospital
Right Moves for Youth
Husband / Spouse / Wedding & Marriage / Partner / Dating
Kerry Prior and Maureen O Boyle have a daughter together, but they are not married.