Name
Chinmayee Surve : चिन्मयी सुर्वे
Also Known as
Chinmayi Sumeet
Birthday / Date of Birth / Age
23 September. No confirmed information on the age.
Biodata Profile / Wikipedia Information
Introduction:
Originally from Aurangabad, Chinmayee Surve is an actress who has worked in over 25+ serials, films and nataks. As a child, she did not have access to television and grew up on radio programmes in her initial years.
Personal Life:
She is married to popular actor Sumeet Raghavan. Their wedding anniversary is on 8th June 1996. They meet on the sets of the natak – Jwalamukhi. They have also 2 children – Neerad Sumeet and Deeya Sumeet. Both their children attend Marathi medium schools.
Predominantly a theatre actress, she did her first daily soap in Hindi in 2010. She is fond of reading and her pet name in Chinu.
Marital Status / Marriage & Wedding / Husband
Currently Married to actor Sumeet Raghav. The wedding happened in 1996 & now the couple has two children – Neerad Sumeet and Deeya Sumeet.
Films / Movies Worked On
Bangarwadi
Nilambari
Jhanjavat
Checkmate
Porbazaar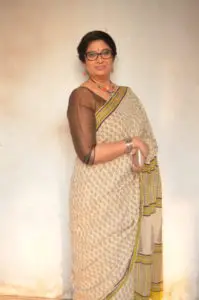 TV Serials / Shows Acted
Tisra Dola
Lagi Tujhse Lagin – Role of Baabi
Akash Jhep
Kataa Rute Kunala