Name
 Megha Ghadge ( मेघा घाडगे )
Also Known as / Real Name
 Megha Gadge / Meghana Ghatge
Date of Birth / Birthday / How old / Age / DOB
29th March 1980. As of 2020, she is around 40 years old.
Biodata Profile / Wikipedia Information
The talented dancer, Megha Ghadge, was born in Pune but brought up in Mumbai. She is also a lavani dance teacher and conducts classes on a folk dance called as 'Megh Malhaar' at Andheri in Mumbai.
She is a skilled dancer and has performed in a few Marathi TV shows and films such as Pachadlela (2004), Maherchi Maaya (2007), and Chal Dhar Pakad (2010). She regularly performs in various dance-related shows, performances, and Dahi-handi events.
Wedding / Marriage / Husband / Boyfriend
Currently Not Married. No additional information about her family or parents available with us.
TV Shows / Serials Acted
Marathi Taraka – Zee Marathi
Career Span
2009 – Present
Height and Weight
Her height is 5 ft 3 inches.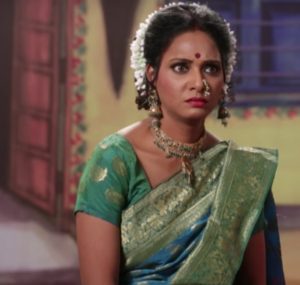 Chitrapat / Films / Movies Acted
Shaku
Dandit
Shivaji – The Real Hero (2013)
Popat (2013)
Navra Maza Bhavra (2013)
Chal Dhar Pakad (2010)
Pachhadlela