Name
PRAJAKTA MALI (प्राजक्ता माळी)
Also Known as / Real Name
Meghana from Julun Yeti Reshimgathi
Date of Birth / Birthday / Age / DOB
8
th
August 1989. As of 2020, she is around 31 years old.
Marital Status / Husband / Spouse / Boyfriend
Currently Not Married. and no rumours about any affair or boyfriend. She mentioned that her mother has added her name to matrimonial websites & she intends to get married by the year 2020.
Biodata Profile / Wikipedia Information
Prajakta Mali is a popular Marathi television and film actress.
Personal Life :
Prajakta was born in Pandharpur, but her childhood and education both happened in Pune. She later shifted to Mumbai for her work. Her family includes her parents – Her father works in the police department and her mother's name is Shweta Mali.
Education :
For her education, she completed her degree in fine arts the Lalit Kala Kendra in Pune, at the same time topping her university.
Love for dance :
Her parents got to know that her love is her dance education at a young age, and encouraged her to pursue Bharat Natyam. She trained in Bharatnatyam under her guru Swati Datar and Parimal Fadkar.
In just her 6th standard, she performed in the show Dholkichya Talavar on DD Sahyadri.
She has given other solid dance performances right from her childhood, for Shanivar Vada and Police Kartavya Melava.
Professional Life and Career :
Her career started around 2007. Sanjay Surkar's film "Tandla EK Mukhavta" was her first film role. Smita Talwalkar's show Suvasini was one of her first roles on television, and she also considers it to be one of her favourites. Her role of Savi was quite popular.
Her role as Yesubai in the play Shivputra Shambhu Raje, was widely applauded by the audience. Some of her other prominent roles include the role in Kedar Shinde's film Kho Kho. She got this part, just as the serial Suvasini was ending.
After Suvasini, her second biggest break on TV was the hit serial Julun Yeti Reshimgathi in 2014 on Zee Marathi, in which she played the role of Meghana.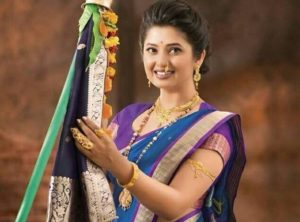 Her height is around 5 ft 1 inches
Natak / Plays Acted
Nimma Shimma Rakshas
Shivputra Shambhu Raje
Chitrapat / Films / Movies Acted
TV Serials / Shows Acted
Phiruni Punha Janmen Mee
Bandh Reshmache
Suvasini
Nakti Cha Lagnala Yaycha Haa