Name
VASUDHA DESHPANDE
Birthday / Date of Birth / Age
 29
th
December 1956. Her current age is around 60 years.
Career Span
1984 – Present
Biodata Profile / Wikipedia Information
Vasudha Gandhe-Deshpande was born & brought up in Ahmednagar, Maharashtra. She graduated from Premraj Sarda College (University of Pune). In her college days, she represented the Youth Festival and won Gold Medal for acting in "Raktapushpa & Yatanaghar".
She has also received the prestigious Maharashtra State Completion"s Award for Acting & Direction for "Chinna" (छीन), Marathi Natya.
Parishad- Mama Pendse Puruskrut Ganpatrao Bhagwat Paritoshak Sarvotkrushta Abhinaya(Best Acting). She also has many awards for her "Katha Kathan" performances.
She was part of Doordarshan"s First Popular Marathi serial "Shwetambara". InShwetambara, she essayed the popular role of Neelatai which is still highly appreciated and remembered by the audience. She played an unconventional role of "Baijabai" in Zee Marathi"s serial "Saibaba" which was based on the life of Shirdi Sai Baba.
Currently, she can be seen in Colors Marathi Serial "Kamala" as Moti avva (मोठी अवा). She is active on stage with her current play in Marathi "Janmarahasya".
Her earlier plays include "Premgandha" which was produced by Chandralekha.
She has a Marathi film lined up titled "Chinna" in which she has acted as well as directed it.
TV Serials & Shows Acted
1. Shwetambara – First Serial
Abhalmaya
Saibaba
Firuni navi janmein me
Ranga maza vegla
Kamala (Currently on Air) 5. Keher (Hindi Serial)
Chitrapat / Films / Movies Acted
Nayak (Hindi)
Munna bhai S.S.C. (Marathi)
Tele film eka mhatarichi gosta – Also won national award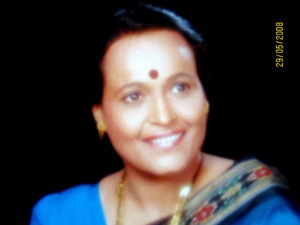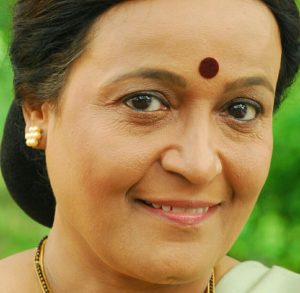 Nataks Acted
NATAK(THEATRE)
Competitions:
1. Raktapushpa
2. Yatnaghar
3. Sultan
4. Curfue
5. Chinna
Prayogik Rangabhumi :
1. Aryanyak
2. Suryashikar
3. Jagannath
4. Next
5. Janukahi vastav
Commercial Theatre:
1. Premgandha
2. Maza kai chukla Janmarahasya on stage