Name
Anjali Ujawane
Also known as
Anjali Vilas Ujawne
Age / How old / Birthday / Date of Birth / DOB
No confirmed information available on the year she was born.
Marital Status / Wedding & Marriage / Husband / Partner Married to her husband, Dr. Vilas Ujawane, who is also a famous actor. Their family also includes a young son.
Career Span
1995 – Present
Wikipedia Bio / Profile Background
A veteran actress in Marathi television with a career of over 20 years in plays and films, Anjali Ujawane has acted in close to 100 plays and 30 Marathi films and television serials. Some of her famous roles include her roles in Char Divas Sasuche (ETV),Runzun, Kadambari, ,Vaaras, Vadal Vaat (Zee Marathi),Vansh and Unch Majha Jhoka.
She is one of the few Marathi actresses to have made it big in Hindi television as well.Crime Patrol, Chotisi Zindagi, Saavdhan India, Kkusum, Arjun are few of her famous TV series in Hindi.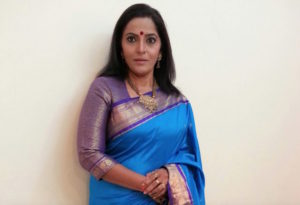 She joined the cast of the Colors show 'Krishnadasi' in 2016, playing the role of Naku.
Chitrapat / Films / Movies Acted
4 Idiots
Akleche Kande
Eka Var Tin Tera
Revati – Hindi
Doma
Lonavla Bypass
Height and Weight
Her height is around 5 ft 3 inches