Name
Alex Swoyer
Wedding & Marriage / Husband / Engaged / Fiance / Partner
Married. See below for relationship details.
Wikipedia Biography / Profile Information
Introduction :
Alex Swoyer is an American Legal Affairs reporter who works for The Washington Times.
She has worked with several local television and radio affiliates in Missouri, Florida, and her native state of Texas. After acquiring her law degree, Swoyer moved from the courtroom back to broadcast and journalism, which is her first passion.
Personal Life, Parents & Family Background :
Little is known of Swoyer's earlier life except that she was originally from Texas. She moved to Missouri to pursue a career in investigative reporting.
She is of Christian faith.
Alex got married to her husband, Ali Sajadi, in August 2017. It was a church ceremony with celebrations held at Trump International Hotel, Washington.
Swoyer's husband, Sajadi, was named as one of the top doctors in D.C. by the Washingtonian magazine in 2015; a fact Alex had shared on her Instagram account.
Education : Qualifications, High School & College Info
Her enthusiasm for journalism led Alex to do her undergraduate studies at the University of Missouri-Columbia (Mizzou), where she graduated with a Bachelor in Journalism in 2010, with an emphasis on Broadcast Journalism.
Alex attended the Ave Maria School of Law on an academic scholarship, graduating as a Doctor of Law (J.D) in May 2013.
Career, Salary and Net worth :
Alex was an investigative reporter at KOMU-TV from August 2006 to May 2010, where she broke a confession from Charles Erickson, who murdered a local sports editor. This was then picked up 48-Hours and Dateline.
She was also the political correspondent at Breibart News Network from March 2015, where she covered the 2016 presidential election and Capitol Hill. She announced her jump from Breibart News Network to The Washington Times via a tweet in January 2017.
Currently, Alex is the Chief of Legal Affairs at The Washington Times. Stephen Dinan, the deputy assistant managing editor at the Times, was quoted We've long been fans of Alex's work, and it's great to have her back where she belongs at The Washington Times.
This is not her first stint at the paper. Alex was a correspondent and multi-media journalist for The Washington Times from October 2013 to March 2015.
Interesting Facts & Trivia :
Swoyer founded the Young Women for America (YWA) club at Ave Maria School of Law and was President of the YWA for 2012.
She took part in various pageants, winning Miss Naples USA 2012 and Miss Southwest Florida 2011. She was also a semi-finalist at the Miss Washington D.C. pageant, hosted by NBC Universal and Donald Trump.
Alex thinks Naples, Florida, is one of the greatest places on earth and miss the sunshine and beaches when she is in Washington D.C. One of her hobbies is collecting nutcrackers.
Swoyer had always been fascinated by the power of the media to shape opinion, even as an undergraduate at Mizzou. Her blog is still online, where she documented her experiences as an undergraduate cutting her teeth in the world of journalism and broadcast.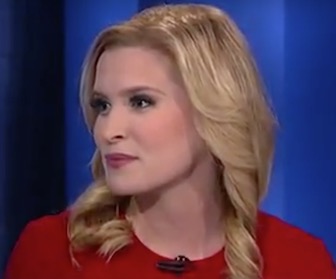 Body Info / Physical Features
Alex Swoyer Measurements :
Eye Color : Blue
Haircut / Hair Color : Blonde
How tall is Alex Swoyer Height : No confirmed information available.
Feet / Legs / Boots / Shoe Size : No confirmed information available.
Pregnant ? : Currently, she is not expecting a baby.
Alex Swoyer Married? : Yes
Children / No of Kids : –
Ethnicity / Origin / Heritage / Race : White
Nationality : American
Age / How old / Birthday / Date of Birth / DOB
No confirmed information available on her birth year or the date she was born.