Name
Jessica Blaylock
Birthday / Age / Date of Birth / How old / DOB
January 15, 1983. As of 2021, she is around 38 years old.
Wiki Bio / Profile Information
Introduction :
Jessica Blaylock is a lively reporter for Fox Sports Florida. She mostly covers the Miami Marlins, a professional baseball team and the Florida Panthers, a professional hockey team.
Jessica's efforts led to her hosting the first football show in the US by only women! She did this at the radio station where she worked before joining Fox Sports.
Personal Life, Parents and Family Background :
Jessica was born in Jacksonville, Florida, on January 15, 1983. She also grew up in Jacksonville.
Jessica has two sisters but no brothers. However, this didn't stop her father from passing on his love for sports to his children. Her dad was born in Boston and was a big fan of all big Boston-based teams.
Growing up as an ardent sports fan, Jessica knew early that she wanted to be a sports reporter. She realized this in middle school & started taking journalism classes. In high school, she got further determined to pursue sports journalism as a career.
Education and Career :
Jessica received her undergraduate degree in history and broadcast journalism at the University of Florida.
Fortunately, she got a job at ESPN, straight out of college.
From 2010 to 2015, Blaylock worked at the 1010XL, sports radio station in Jacksonville. She had done some TV reporting before entering radio broadcasting at 1010XL.
Jessica's job at 1010XL was landed with the help of an acquaintance named Frank. She had got to know Frank by babysitting for his daughter before getting her university degree.
She believes that doing radio made her so much better at television broadcasting.
Following her stint at 1010XL, Jessica started work at a major network, Fox Sports, as a reporter for the teams Miami Marlins and the Florida Panthers. She now lives in Fort Lauderdale, pursuing her career and love for sports.
Reporting Sports as a Woman :
Jessica faced certain challenges as a female sports reporter. For example, she recalls that after reporting her first NBA game, the online discussions about her had nothing to do with the quality of her reporting and were mostly focused on her physical appearance.
She also thinks it's challenging to walk into the locker room of athletes as a female reporter. She remarks that female reporters are seen as women first and then reporters, as opposed to male reporters who are just seen as reporters.
She also dislikes stereotypes about female sports reporters. For example, she hates the stereotype that female reporters get sexually involved with athletes or that a female reporter is more concerned about how they look on-camera than reporting.
One of her favorite sports journalists is Erin Andrews, with whom she has worked for some time. According to Jessica, Erin was very supportive and encouraging of her dreams and aspirations.
Jessica's all-time favorite female sports reporter is Doris Burke. She considers Doris the greatest woman in the industry because she's versatile and respected by everyone.
Trivia & Interesting Facts :
Even though Jessica covers a professional hockey team, she considers hockey to be one of the most challenging sports to report on. She also considers the hockey players to be one of the most "manly" men.
She likes chocolate, and history, and the band Led Zeppelin.
She is an animal lover, especially dogs & often posts pictures of her two adorable Chihuahuas on her Instagram account.
Body Info / Physical Features
Jessica Blaylock Measurements :
Eye Color : Hazel
Hair Color : Brown
Jessica Blaylock Height : 5′ 7″
Feet / Legs / Boots / Shoe Size : No confirmed information is available.
Pregnant ? : Currently, she is not expecting a baby.
Weight Loss : A few Google queries regarding this, but we couldn't find anything conclusive on any of her social media.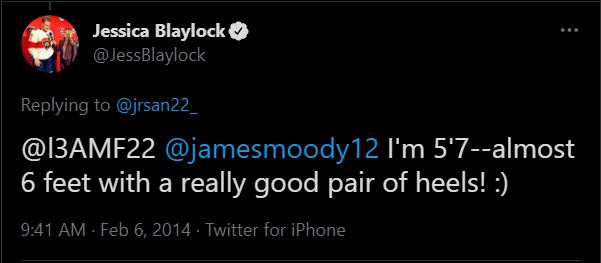 Jessica Blaylock Married ? : No
Children / No of Kids : –
Ethnicity / Origin / Heritage / Race : White
Nationality : American
Married / Wedding / Husband / Dating / Boyfriend
See above for details.