Name
Julie Haener
Wedding & Marriage / Husband / Boyfriend / Partner
Married. See below for relationship details.
Wikipedia Bio / Profile Information
Introduction :
Julie Haener is an award-winning anchor for the 5 PM, 6 PM, and 10 PM news segment at KTVU Channel 2 in Oakland, California. She has been working for this network for more than two decades.
Personal Life & Family Background :
Julie grew up in Tacoma, Washington but currently resides in Diablo, California.
Marriage : Julie has two sons with her husband, Ryan, whom she married on March 12th, 1995. Ryan is a successful salesperson selling orthopedic implants as his profession.
Both her children, Jake and Kyle, are both huge sports fans, with Jake aspiring to play football professionally. Jake, standing at 6ft+ tall, has already played for Monte Vista High School as a quarterback. At Jake's games, many times, student bodies would bring large photographs of Julie and even chant her name.
Like his son Jake, Julie's husband Ryan too was a swift and muscular high school quarterback back in his days.
Education : Qualifications, High School & College Info
Julie Haener attended the Bellarmine High School in Tacoma and graduated in 1985.
She is from the Class of 1989 of the University of Washington, where she obtained a degree in Broadcast Journalism.
Interesting & Fun Facts :
While in Yakima, Julie wrongly pronounced the words "city shops," turning them into swear words. Her news director suspended her for two days without pay following the mishap.
Her hobbies are walking, playing tennis, horseback riding, and traveling. She enjoys nothing more than to cheer for her two children playing football or lacrosse.
A proud equestrian and horse owner, she regularly goes for horse rides.
Haener enjoys taking candid photos whenever she can. She says that she has over 40K photos on her computer that she wants to organize someday!
In 2012, Julie had featured in Rich Lieberman's list of 'Bay Areas Hottest Women News Anchors!'
Sometime in September 2015, Julie underwent surgery on her small intestine & faced some complications during recovery. She was off the air for about a month.
Health Update :
Julie Haener Illness / Sick : In 2015, Julie was off-air from her anchor desk.
She was hospitalized for a small intestine surgery. She took many days to recover from her surgery setbacks.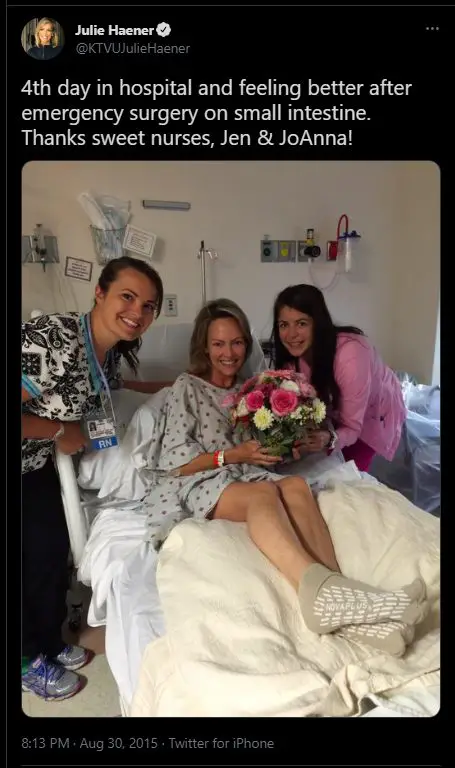 Professional Career, Salary & Net worth :
Julie's inspiration to become a journalist was sparked by a family friend who had worked as a sports newscaster. The family friend had invited Julie and her mother to watch the evening news with him, which spurred her interest in the line of work.
After graduation, Julie was desperate for work. After working for free for three months, she landed her first job in Yakima, Washington, while living in a minuscule apartment above the TV station. As a one-woman band reporter, Haener shot, wrote, and edited her own stories. Julie worked for 12 hours every day until she found her next job in Fresno, California.
She was 23 years old when she was employed with KJEO-TV in Fresno and worked as a weeknight news anchor and health reporter. It was here where she met her husband.
Haener got offered a position in KIRO-TV in Seattle while on her honeymoon, which she believed to be a dream come true at the time. She worked as a weekday morning anchor, which required to get her to work by 3 AM every morning.
She left KIRO-TV after two years when her husband was promoted and relocated to Bay Area in 1997. She initially worked with KTVU as a freelance reporter but was offered a full-time position within a few months.
Haener was promoted to weekend anchor in 1998. In 2000, she co-anchored with Dennis Richmond when KTVU Channel Two News was launched.
She continues to remain with KTVU until today. Since her career with KTVU, she has won multiple awards, including 7 Emmy Awards.
Julie Haener Salary : As per an 2015 AdWeek report, she was paid $525,000 per annum.
Body Info / Physical Features
Measurements :
Eye Color : Hazel
Haircut / Hair Color : Blonde
How tall / Height : 5' 7"
Feet / Legs / Boots / Shoe Size : 7
Pregnant ? : Currently, she is not expecting a baby.
Weight Loss : A few Google queries regarding this, but we couldn't find anything conclusive on any of her social media.
Marital Status / Married? : Yes
Children / No of Kids : 2
Ethnicity / Origin / Heritage / Race : White
Nationality : American
Birthday / How old is Julie Haener Age / Date of Birth / DOB
August 11, 1967. As of 2022, she is around 55 years old.