Name
Isabel Kaif ( Also known as : Isabelle Kaif )
Date of Birth / Birthday / Age / DOB
March 22, 1986. As of 2020, she is around 34 years old.
Wikipedia Profile / Biography Information
Isabel Kaif is a model, assistant director, and actress, starting to make her way into the Bollywood limelight, much like her superstar sister Katrina Kaif.
Kaif Sisters Family & Education :
Isabel was born on March 22, 1986, in Hong Kong to parents – Suzanne Turqotte (mother) and Father Mohammed Kaif (father). Her dad was Kashmiri while her mom was a British citizen.
She has six other sisters, including Bollywood starlet Katrina Kaif. Katrina is the 4th child of the Kaif family, while Isabel is the youngest.
Her other sisters are – Natasha Kaif, Melissa Kaif, Christina Kaif, Sonia Kaif and Stephanie Kaif.
The Kaif family also includes one brother – Michael Kaif.
Education – Isabel attended an acting school in New York (Lee Strasberg Theatre and Film Institute of New York)
Her family used to be apart of the religious institution – Family International or Children of God.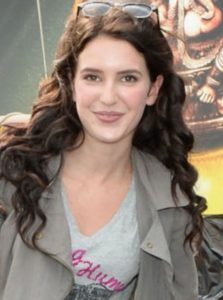 Model Career & Movies :
Isabel was first introduced to the entertainment industry when she started modeling gigs at age 14.
Born with traditional good looks, she rocked the covers of various magazines and print ads.
In 2013, Isabel played the role of Rosaline in the Mexican dramatic film, Mom.
Isabel landed her first big on-screen role in the Canadian comedy movie, Dr. Cabbie, which was released in 2014. Superstar Salman Khan produced and also helped in the music launch of this movie.
Her co-stars in Dr. Cabbie was Big Bang Theory fame actor Kunal Nayyar. It was a moderate success, despite receiving good reviews.
That same year, she played Emma, in the drama film Summum Bonum.
Since January 2017, she's been doing a number of castings and other tasks as the first assistant director for the TV series Hey You, Its Me.
Interesting Facts, Body & Height :
Isabel has the premium looks for modeling, given her mix of British and Kashmiri descent.
Her porcelain, smooth skin really brings out the shine in her dark long hair, as well as the sparkle in her brown eyes.
A few years back, rumors had circled the internet that Isabel was involved in an Adult MMS film. Her family publically denied these allegations and the rumor starters withdrew claims that included her name.
She was open about being sad on the outcome of 2016 US Presidential Election.
Isabel Kaif height : 5' 6''
Few reports had published some rumours linking Siddharth Mallya to Isabel when they were seen partying together in 2016. The pair were said to have a spark around one another, but there were no confirmations whether there relationship was romantic or just friendly.
Later, in mid-2018, the media linked her to actress Sonam Kapoor's brother Harshvardhan Kapoor.
Social Media :
Isabel has a very artsy Instagram, much like most other famous models.
She has a solid following of more than 700,000 on Instagram.
Her pictures display her eye for fashion, and perks of travelling with her career.
Isabelle doesn't seem to have a verified Twitter account, though there are numerous accounts created by her fans.
Wedding & Marriage / Husband / Boyfriend
Currently not married.