Name
 Nidhi Singh
Marriage & Wedding / Spouse / Husband
 Currently Not Married.
Biodata Profile / Wikipedia Information
Profile / Childhood :
Born in the city of Amitabh Bachchan – Allahabad, no wonder Nidhi Singh was born to act. Her relatable characters and flawless performance has made her quite popular, especially on YouTube & other web channels.
Nidhi is most popular for her portrayal of the character of Tanya in the hit TVF YouTube series Permanent Roommates. This character won all of people's hearts as she was able to capture all the nuances of her character perfectly.
For her, the city she is born and brought up in has always inspired her as it made her believe that she could do anything. She recalled that she was clueless about her career, but the thought of being an actor was always in her mind.
She cherished the fact that she got a chance to read Shakespeare at her school. The love for literature stemmed from long monologues which she often recited while running around in her lawn.
Personal life :
She comes from a well-educated family where in her father Birendra Singh is a doctor; her mother Rashmi Singh is a teacher and her elder brother is an engineer.
It came as a shock to her parents that she wanted to be an actor. But they calmly insisted upon her completing graduation first hence she did BMM from St. Andrew's college in Mumbai specializing in advertising.
Being a practical person, she didn't go all out of her way for acting. First, she made sure to sustain herself by joining JWT, an advertising agency in Mumbai. Here she got a lot of exposure to raw talent and was happy to work in such an exciting world of advertising. But acting bug never left her.
Career, Income, Salary & Net Worth :
In JWT, she met Shernaz Patel who rekindled her dream of being an actor. After two years of working in JWT, she started doing freelancing work as an assistant director for ad films as well as theatre. She did it for 1.5 years before giving it all to acting.
Going through millions of auditions she finally got a job for Minto gol commercial. Gradually her career started taking shape and before she knew, she was working for TVF. TVF called her after seeing her in a play and asked her to do the parody, "Emotional Atyacharge" and later went on to work as Tanya in Permanent Roommates, Assistant girl in K.I.D and Man's World. She has also acted in a few other YouTube shows on channels like Being Indian.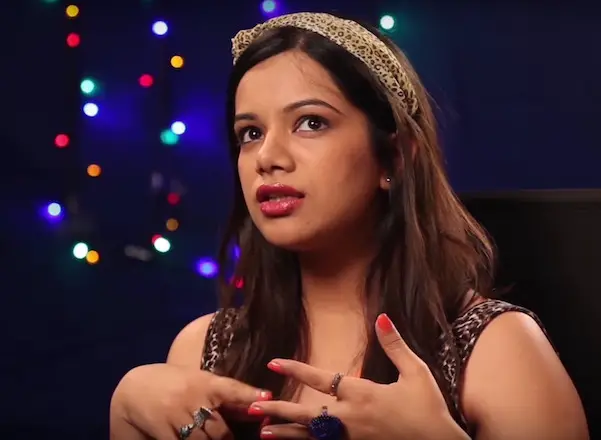 Her dream roles to play are 'Aileen from Monster' and 'Francesca from The Bridges of Madison County'. She enjoys making people laugh, thus her acting fits perfectly in TVF's various projects whose weapon is humor.
Her height is around 5 feet 2 inches.
Most Memorable Role
 Tanya from Permanent Roommates Season 1