Name
Jessie Jane Duff
Wikipedia Biography / Profile Background
Introduction :
Jessie Jane Duff is a retired U.S. Marine Corps, advocate, gunnery sergeant, and political commentator based in Washington, D.C.
Smart & tough, there is no ignoring Jessie when she begins to talk about issues she is most passionate about.
Jessie graduated from college with a Bachelor of Science degree in Business Management.
She is the youngest of the 5 children in her family. Her mother celebrated her 97th birthday in December 2021.
Military Service :
Jessie has spent most of her life dedicated to serving the country in some form or another. She was an active member of the U.S. Marine Corps for two decades.
Throughout her career, she was deployed several times overseas and supported wing units and combat arms with training and logistics.
She served in the Afghanistan/Iraq wars as well as the Desert Storm. Jessie also worked as an Executive to the Marine Forces Pacific Commander, and by the time she retired, she had been promoted to Operations Chief.
Life after Military :
From 2005 to 2006, Duff served as chairman of the Americans for Dr. Rice to support former Secretary of State, Condoleezza Rice, and supported Rice's political career. She helped generate support through attending multiple conventions and making various TV appearances.
Between 2009 and 2012, she served as a Military Voting Rights USA spokesperson to help ensure that veteran's votes were treated equally and fairly. She also advocated the Military and Overseas Empowerment Act.
Despite having retired from active duty, Jessie continued to serve the country, working as a Senior Military Advisor between 2012 and 2014. She was also a member of the Concerned Veterans for America's Organization Committee.
She has worked tirelessly as an advocate who helped ensure that veterans got the benefits they deserved after serving and that laws for military voters were properly improved so that veterans could vote just like other civilians.
Other career highlights of Jessie include working as part of the Women Marines Association, Women in Defense, the Disabled American Veterans, and the John Carroll Society, and serving as a consultant in the private and defense industries.
In January 2022, Duff was featured in the "Day of Outrage" documentary, that aired on Newsmax. According to Jessie, in this extraordinary documentary, the events of January 6, 2021, were accurately and fairly depicted.
Interesting Facts, Height & Trivia :
Duff actively provides political, national security, business, veteran, and military analysis and appears on various networks and stations such as CNBC, Fox Business, Fox News & CNN as well as multiple other national and local radio and television stations.
She also contributes to multiple OpEds, blogs, and articles for various online publications. She continues to show her support for the military, be it on special holidays or through one of her many pieces.
Having worked for decades, serving the country and working as an advocate for various causes, it comes as no surprise that Jessie has managed to rake up a few accolades.
These include 2 Medals for National Defense, 2 Medals for Marine and Navy Corps Achievement, and 3 Medals for Marine and Navy Corps Commendation, as well as multiple other awards that she received for her service and excellence throughout the course of her career.
During the 2020 Presidential elections, she was a vociferous opponent of President Joe Biden, alleging that the election had been stolen from former President Donald Trump. Duff made a series of tweets targeting President Biden. She continues to post pro-Trump tweets, through her Twitter account.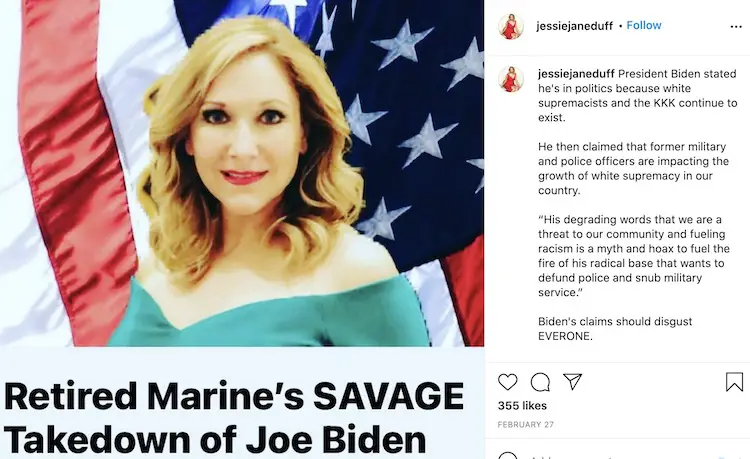 Age / How old / Birthday / Date of Birth / DOB
No confirmed information available on her birth year or the date she was born.
Wedding & Marriage / Husband / Dating / Partner / Boyfriend
No confirmed information available.