Name
Trisha Paytas
Birthday / Trisha Paytas Age / Date of Birth / DOB
8
th
May 1988. As of early 2020, she is around 31 years old.
Biography Profile / Wikipedia Bio
Introduction :
A successful YouTube sensation & a famed internet personality, Trisha Paytas was recently one of the contestants on TV show Celebrity Big Brother and has also made her name through her hit singles.
Family & Early Life :
Trisha was born on 8th May 1988. Her birth sign is Taurus.
She was born and brought up in Riverside, California and is of Hungarian descent.
Parents : Her mother is Lenna Paytas, who herself is a YouTube star. Trisha Paytas Dad is Frank Paytas. Her parents divorced when Trisha was 3 years old.
She has a half-sister named Kalli Metz.
In 2015, she dated Sean Van Der Wilt, but broke up later. Sean Wan Der Wilt is a pop music artist and a dancer and an actor.
She currently resides in Hollywood, California.
Details of Education :
She has done her primary schooling from Illinois.
At the age of 15, she attended Catholic Online School programme. After a year, she returned to Illinois to attend school at Pecatonica.
Work as a Model & TV Appearances :
Before attaining fame, Trisha worked as strip dancer and a lingerie model.
Her first appearance on TV was as a correspondent on the Greg Behrendt Show in 2006.
She has appeared in music video of Eminem's 'We made you' as Jessica Simpson (2009). She also appeared in Les Savy Fav's 'Sleepless in Silverlake' as Marilyn Monroe.
Youtube Career : Salary & Net Worth
Trisha runs a very popular YouTube Channel named 'blndsundoll4mi', where she regularly posts videos of her. Every Friday, she releases a video on Ask Trisha web series exclusively on her channel. More than 3 million people have subscribed to her channel.
She has also collaborated with many YouTube stars, one of them being Shane Dawson; famed as the writer and subject of the internet series Shane Dawson TV.
In addition to running her YouTube channel, she models plus-size lingerie for both 'Hips and Curves' and 'Popsi Lingerie'.
She also released her own fragrance in the year 2013.
Trisha Paytas Songs & Music Career :
In addition to TV appearances and YouTube, Trisha has released several singles. Her first single was titled 'Fat Chicks' and released on 6th March 2015.
After that, there came a flurry of her singles named 'Superficial Bitch', 'Under the Covers', 'Daddy Issue', 'Showtime', 'Warrior', 'Chicken Fingers' and 'Lipo'.
Height, Trivia & Interesting Facts :
Trisha describes herself as a mix between Woody Allen & any local hooker! Gathering from her description, she may not look much religious, but on the contrary she is quite passionate about it and has deep beliefs in Roman Catholic Church.
Once, she had been awarded the title of world's fastest talker. Her speed was 710 words in 1 minute.
She has a black belt in Tae Kwon Do.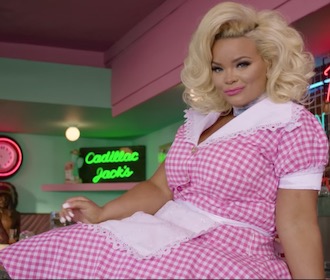 Has immense love for playing banjo and is quite good at it.
She loves Hello Kitty and is an avid foodie.
A huge fan of TV show Game of Thrones, especially the character of Khal Drogo, played by New Zealander Jason Momoa.
It is known that she suffers rare bouts of mental illness. This came to the fore when she tried to kill herself in April 2017.
She has light blonde hair, pale skin and grey eyes.
Marriage & Wedding / Husband / Partner / Boyfriend
Currently Not Married. See above for details.