Name
Ankush Chaudhari l अंकुश चौधरी
Also Known as / Real Name
Ankush Chaudhary / Ankush Choudhary
Age / How old / Birthday / Date of Birth / DOB
31st January 1977. As of 2023, he is around 46 years old. He appears a lot younger though.
Marital Status / Wedding & Marriage / Wife
Married to actress
Deepa Parab
since 2008.
Wikipedia Biodata / Profile Background
Personal Life :
Ankush Chowdhari is one of the most good looking and tall actors of the Marathi industry. His height is around 6 feet.
In his childhood, he used to live in a chawl in Mumbai. Later for his education, he headed to Maharshi Dayanand College in Mumbai, where he met his future wife to be Deepa Parab. Their romance began in college and continued for a long time before they settled into marriage.
He started his career around 1990 with Maharashtrachi Lokdhara. This was the platform on which he started his career, and as a result, he is close friends with Bharat Jadhav and Kedar Shinde since the early part of their career.
TV, Film & Natak Career :
Suna yeta ghari was his debut film. Having acted in a lot of films, one of his most well-received roles was that of the tough but loyal Digya in 2013 blockbuster Duniyadaari.
Though he has played mostly lead and comic roles in movies such as Checkmate, Aai Shappath, he also played a great negative character in Por Bazaar. He also did some Bollywood movies like Jis Des Main Ganga Rehta Hai.
He also has entered into movie direction with the movie Jhakaas.
Ankush was also part of the comedy Natak All the Best, which ruled over a lot of hearts in the late 1990s. He starred in a few TV shows such as Ha Sa Chakat Fu, directed by Kedar Shinde.
Photo with his wife Deepa: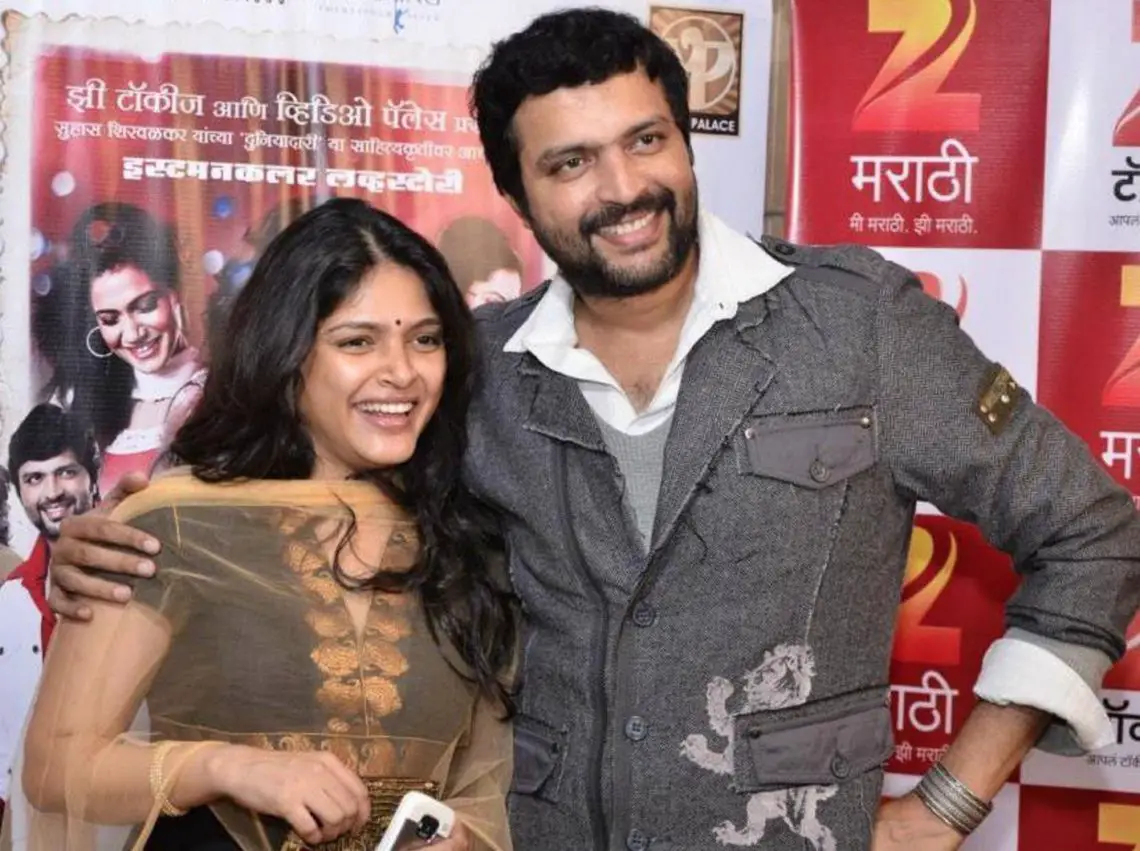 He is quite active over social media platforms as well – on Facebook and Twitter. His official Twitter handle is 'iamankush'.
TV Serials & Shows Acted
Eka Peksha Ek
Bedhund Manachi Lahar
Hasa Chakatfu
Abhalmaya
Chitrapat / Films / Movies Acted
Jis Desh Me Ganga Rahta Hai – Hindi (2000)
Savarkhed Ek Gaav (2004)
Soona Yeti Ghara..!(2004)
Aai Shappath..!(2006)
Aaila Re! (2006)
Majha Navra Tujhi Bayko (2006)
Matichya Chuli (2006)
Yanda Kartavya Aahe
Checkmate (2008)
Gaiir (2009)
Mi Shivajiraje Bhosale Bolatoy (2009)
Ringa Ringa (2010)
Zhakaas (2011)
No Entry Pudhe Dhoka Aahey (2012)
Bluffmaster (2012)
Ashach Eka Betavar (2013)
Duniyadari (2013)
Coffee (2013)
Gadbadgunda (2013)
Ghotala (2013)
Bol Baby Bol (2014)
Classmates (2015)
Dagdi Chaal
Double Seat
Natak / Plays Acted
All the best
Maharashtrachi Lokdhara
Most Memorable Role
As DSP aka Digya in Duniyadari