Name
SIDDHARTH JADHAV / सिद्धार्थ जाधव
Also known as
SIDHARTH JADHAV / SIDDARTH JADHAV / SIDARTH / SIDHU
Age / How old / Birthday / Date of Birth / DOB
23rd October 1981. As of 2023, he is around 42 years old.
Marital Status / Wedding & Marriage / Wife
Married to Trupti Jadhav. In his family, he also has two daughters. The name of his elder daughter is Swara.
Wikipedia Biodata / Profile Background
Born in Mumbai, Siddharth Jadhav went to the prestigious Ruparel College to complete his education.
He started acting in Ekankikas during this period. During his childhood, he had ambitions of becoming a police officer.
Siddharth was first noticed as portraying the role of ape-man in the Sanjay Narvekar starrer superhit natak Locha Jhala Re. Thereafter, his roles in movies like Jatra, Lalbaug Parel, Huppa Huiya etc. gave him huge popularity. Sidharth's unique sense of comedy differentiates him from other contemporary Marathi actors.
He is one of the few Marathi actors to do well in Hindi standup comedy as well – His pair with Bharti Singh in Comedy Circus has earned him some good reviews.
Batatyachi Bhaji and Chicken are his favourite dishes. His height is around 5 feet 9 inches.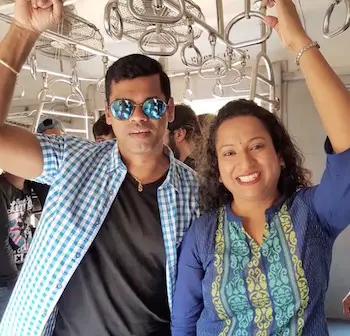 He and his wife participated in the dance show Nach Baliye 8.
TV Serials & Shows Acted
Ek Shunya Baburao
Hasa Chatak Fu
Ghadlay Bighadlay
Apan Yanna Hasalat Ka?
Teen Tera Pimpalzad
Daar Ughada Na Gade
Baa Bahoo Aur Baby – Hindi
Comedy Circus Ka Naya Daur – Hindi
Kahani Comedy Circus Ki – Hindi
Sarabhai vs Sarabhai – Hindi
Comedy Circus Ke Ajoobe – Hindi
Chitrapat / Films / Movies Acted
Priyatama (2014)
Time Please Love Story Lagna Nantarchi (2013)
4 Idiots (2012)
Kutumb (2012)
Dhaam Dhoom (2012)
Mamachya Rashila Bhacha (2011)
Fakt Ladh Mhana (2011)
Bhaucha Dhakka (2011)
Superstar (2011)
Shahanpan Dega Deva (2011)
Sumbaran (2010)
Bhairu Pailwan Ki Jai Ho (2010)
Paradh (2010)
Target (2010)
City Of Gold (2010)
Kshanbhar Vishranti (2010)
Lalbaug Parel – Zhali Mumbai Sonyachi
Huppa Huiyya (2010)
Shikshanacha Aaicha Gho (2010)
Irada Pakka (2010)
Mi Shivajiraje Bhosale Boltoy (2009)
Gaav Tass Changal (2009)
Saline Kela Ghotala (2009)
Baap Re Baap Dokyala Taap (2008)
De Dhakka (2008)
Galgale Nighale (2008)
Hyancha Kahi Nem Nahi (2008)
Mi Amruta Boltey (2008)
Uladhaal (2008)
Bakula Namdev Ghotale (2007)
Jabardast (2007)
Saade Maade Teen (2007)
Maza Navara Tuzi Bayako (2006)
Jatra (2006)
Natak / Plays Acted
Jago Mohan Pyare
Locha Jhala Re
Umbartha
Mee Shahrukh Manjarsumbhekar
Most Memorable Role
Too Many to Name One!