Name
Brittany Begley
Wedding & Marriage / Husband / Engaged / Spouse / Partner
Married. See below for relationship details.
Wikipedia Biography / Profile Information
Introduction :
Brittany Begley is an American TV reporter and journalist, well-known for providing traffic updates & weather news shows at major stations like ABC and CBS.
In Jan 2018, she was hired by ABC 10 news team, based in Sacramento.
Personal Life : Parents, Family and Education
Brittany is happily married since 2010 and has a young son as well. She loves spending time with her family whenever she can.
Begley graduated from college with a journalism degree & has been working in that field ever since then.
Currently, living in Sacramento, Brittany has lived across America and loves visiting places like Ohio and Atlanta.
According to her social media posts, Brittany loves to travel with her father & other family members and explore new food in different places.
Living in Dayton, Ohio, led her to become passionate about climate change and weather, and she is currently studying at the Mississippi State University with an ambition to become a meteorologist.
Early Life :
A midwestern gal, Brittany was born in Dayton, Ohio, and is a proud Buckeye. She lived most of her early life in Ohio.
Growing up as an only child, she was close with her parents and extended family, especially her cousin. They still meet whenever they can and enjoy traveling together.
Career, Job, Salary & Net worth :
Brittany got her start on television as an intern at WCCB-Fox Charlotte as "The Resident Mom," searching out deals for local Moms.
She moved on to WCNC-NBC Charlotte, where she did a little bit of everything, progressing from Production Assistant to Social Media Host and eventually to Traffic Anchor.
After leaving Charlotte, she worked as a traffic reporter on WDTN-Dayton for a year.
Brittany spent around three years as a Traffic Anchor at WBNS-10TV – CBS Columbus before landing her current job at ABC 10.
Fun Facts & Trivia :
Brittany is passionate about getting people to work on time each day. In fact, when she's not spending time with her husband and son, cooking on Facebook Live or doing homework, she always has an eye on traffic on ABC's official website.
She loves cooking for her son and husband & is always looking for new recipes. She uses her social media to ask her fans about their favorite recipes.
Twitter is her favorite social media platform and has over thirty thousand tweets on her official page.
Brittany posts snippets of her life on Facebook through short videos, and often shares her thoughts on latest books, life & other things.
She loves reading and reads whenever she can get some free time. One of her favorite books is a self-help book named "Tools of Titans" written by Tim Ferriss.
When asked recently about her outlook on life, she said, "I'm a big believer that if you have a clear vision of where you want to go, then the rest is much easier. I wasn't there to compete. I was there to win."
Body Info / Physical Features
Brittany Begley Measurements :
Eye Color : Blue
Haircut / Hair Color : Brown
Brittany Begley How tall is she ? / Height : 5' 2". She once posted this on her Facebook account. See image below.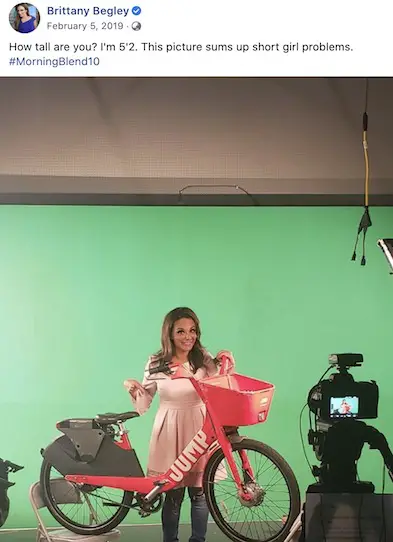 Feet / Legs / Boots / Shoe Size : No confirmed information available.
Pregnant ? : Currently, she is not expecting a baby.
Marital Status / Married? : Yes
Brittany Begley Children / No of Kids : 1
Ethnicity / Origin / Heritage / Race : White
Nationality : American
Brittany Begley Weight Loss : A few Google queries regarding this, but we couldn't find anything conclusive on any of her social media.
Age / How old / Birthday / Date of Birth / DOB
No confirmed information available on her birth year or the date she was born.