Name
Kimi Evans
Biography Profile / Wiki Information
Introduction :
Kimi Evans is the weekend morning meteorologist for ABC7 Eyewitness News. A budding entrepreneur, Evans also owns two fitness studios.
Personal Life : Family & Education
Kimi was raised in two countries – Los Angeles, USA and Japan.
Her mum is Japanese. She grew up with only her mother and not a whole lot of money.
She later found her father through a private investigator and has met him a few times.
Kimi spent five years of her schooling at a Christian Boarding Missionary School in Japan where she was president of the choir.
At school, she was voted as 'most inspirational' and 'best smile'!
She graduated from the University of Southern California and has her Broadcast Meteorology Certificate from Mississippi State University.
Job, Career, Salary & Net Worth :
Kimi has worked in many cities – Los Angeles, San Diego and Hawaii.
Early on in her career, she worked as a translator between Japanese and English.
Her first job out of college was as a casting director and production assistant translator for a Japanese film company. She met Cindy Crawford through the job.
She attended a wedding in Hawaii and on a whim decided to show her tape to various news stations. Her week-long holiday turned into a week of job interviews.
Kimi balances her weather anchor position with on-camera coaching, and TV career consulting.
Initially she took time off to build her fitness studio business but the News Director from Studio 6 asked her to come back to fill in. This led to a permanent position on the morning show which she agreed to try for a year. Now, she juggles both her weather anchor position with her fitness empire.
People might not know that Kimi doesn't just present the weather; she researches and analyzes the data, does the forecasting, puts together the graphics for the show and then presents it live on-air with no teleprompter. She does about 20 weather forecasts a day.
She was once voted one of 'The Top 100 Women Who Move The City' in San Diego & also emcees community events regularly.
Personal Life & Interesting Trivia :
Kimi has modelled in the magazine Seventeen as a teenager.
Her favorite foods are sushi and cupcakes and her favorite drink is ice tea.
She is bilingual and can speak English & Japanese fluently.
Kimi's name means egg yolk in Japanese!
Surprisingly, Kimi has not grown in height or shoe size since the 6th grade.
She has previously broken her knee surfing.
She has been caught out on-air fixing her shoes, not knowing she was on camera.
A workalcoholic, is able to function on 4 hours of sleep.
Kimi is an avid exercise buff who loves practicing pilates, indoor cycling, TRX and booty barre. She also loves hiking and spending time at the beach.
She brought interactive indoor bikes that tilt from side to side to the San Diego community.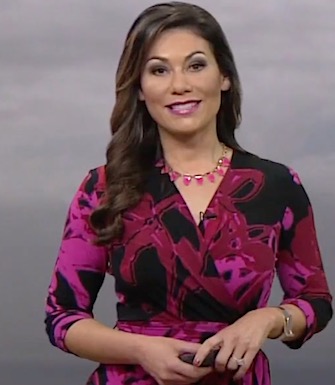 Birthday / Age / Date of Birth / DOB
As of 2019, she is in her mid-forties.
Marriage & Wedding / Husband / Engaged / Boyfriend
No confirmed information available.