Name
Nidhi Kulpati
Wedding / Marriage / Ex Husband / Boyfriend / Spouse
No confirmed information available.
Wikipedia Biodata / Profile Background
Personal and Professional Life :
Nidhi Kulpati is NDTV's Senior Editor and Senior News Anchor who has been with NDTV, right since the start. 
Journalism Career :
Starting her career with 'Newstrack' in 1991, Nidhi reported on the Babri Masjid demolition for many prime time networks.
Nidhi has completed her training in journalism at Sky TV network in London. In the past she has been employed with DD, TVI, Zee News and BBC news networks. Her career with Zee TV lasted for six years.
She joined NDTV when the network began, and mainly covers Indian politics. Other shows that she has anchored include :
Mukhyamantri Chale Gaon
Yuva Sansad
Dilli Durbar
Prime Time
She also regularly holds debates and discussions along with political analysts and leaders on her show titled Badi Khabar. During elections, she is known to have travelled to the election states and cities to get a real perspective.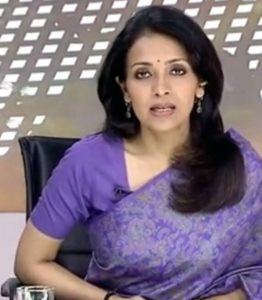 Nidhi is also a recipient of the prestigious INB (Best Hindi News Anchor) and NT Award (Hindi Anchor of the Year) in 2010.
Age / How old / Birthday / Date of Birth / DOB
Born in 1976. As of 2023, she is around 47 years old.