Name
Jessica Samko
Marriage & Wedding / Husband / Engaged / Fiance
Married. See below for more details.
Biography Profile / Wiki Information
Introduction :
Jessica Samko, a tough woman with a tough attitude to match, is a truck driver who appeared in A&E's reality TV show Shipping Wars.
Personal Life, Parents & Family Background :
Samko is originally from Pennsylvania but has been in love with the idea of traveling ever since she was little. As a girl, she wanted to work on a cruise ship, but after becoming a truck driver, she decided she loved that profession much more.
Born with an adventurous spirit, she also loves motorcycles and classic cars and often rides them in her off time with her husband.
She has two cute pet pugs named Wilson and Oogie, and they both travel with her when she goes on a delivery.
Samko is currently married to Derek Smith, also a truck driver. The couple has no children & lives in Monroe, Pennsylvania.
Life & Career before Fame :
Before Jessica became the famous truck driver that she is, she first found herself dating one!
After constantly hearing an old ex-boyfriend brag & also complain about his job driving a shipping truck, she decided to try it out for herself.
Stints with Landstar & JMS Transport :
In 2013, Samko began leasing her truck through the company Landstar, which services deliveries across North America.
The company has over 53,000 trucks under its umbrella, and specializes in helping customers with unique objects get safe, speedy deliveries.
After leasing from Landstar for a while, Samko bought her own truck and began the company JMS Transport, of which she is the sole driver.
Her rig, a red truck with black details, is a carrier, and specializes in interstate travel.
Through her company, she has booked a variety of difficult shipments, eventually garnered enough fame to become a cast member on Shipping Wars.
➤➤ Read About Other Shipping Wars Cast Members Here!
Reality TV Career, Salary & Net Worth :
Shipping Wars, which began in 2012, followed a cast of carrier truckers who specialize in transporting items that traditional truck businesses refuse to transport.
Cast members bid for jobs on the website uShip, and the client chooses who they want to carry the load. The drivers then go on their delivery, and at the end of the episode, the driver's profits and losses are tallied up.
The profits and losses take into consideration any fines, late-day penalty payments, fuel, and labor. Each driver hopes to end up with profits, but sometimes their delivery doesn't work out that way.
Samko joined the show in 2014 and was dubbed "The Road Warrior" by fans. She filmed for Seasons 6 and 7. Her dazzling display of woman strength and ability to manage tough environments impressed many viewers.
On the show, Jessica usually drove a 2008 Volvo 780, most of the other cast members drove trucks below Class 8.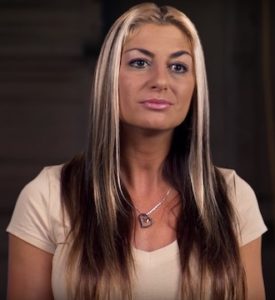 Interesting Facts & Trivia :
In 2013, Samko was nominated by Overdrive, a magazine and website dedicated to trucking, for Overdrive's Most Beautiful. She didn't win but gained a lot of trucking fans in the process.
In one episode of Shipping Wars, she transported baby swans and had to keep them safe in a little kiddie pool. In another, she transported pieces of a rollercoaster for a client that informed her that the coaster was named Bruce and that she was married to him.
The adventurous trucker also likes to attend live rock concerts, as she loves the energy that the venues have!
She has a moderate social media presence, with over 3,000 followers on Twitter. However, she hasn't posted a single tweet after August 2014.
Body Info / Physical Features
Jessica Samko Measurements :
Eye Color : Brown
Haircut / Hair Color : Blonde and long with highlights.
Height : No confirmed information is available.
Feet / Legs / Shoe Size : No confirmed information is available.
Pregnant ? : Currently, she is not expecting a baby.
Weight Loss : A few Google queries regarding this, but we couldn't find anything conclusive on any of her social media.
Married ? : Yes
Children / No of Kids : –
Ethnicity / Origin / Heritage / Race : White
Nationality : American
Birthday / Age / Date of Birth / How old / DOB
No confirmed information available.