Name / नाव
Bun Maska : बन मस्का
Actor & Actreses / Star Cast & Show / कलाकार
Shivani Rangole – Role of Maitrayi
Shivraj Waichal– Role of Saumitra
Jyoti Subhash – Role of  Maitrayee's Aji
Rucha Apte – Role of Maitrayee's Friend
Channel
Zee Yuva
Episodes Running Dates
Episode 1 : 22nd August 2016 – Present
Title Song / Title Track
Click here to listen / क्लिक करून ऐका
Genre
Romantic and Family (कौटुंबिक)
Biodata Profile / Wikipedia Information / Story Outline : माहिती
Bun Maska is a young love story serial that premiered on the channel Zee Yuva, which was launched in August 2016.
The story is centred around the relationship between a young female voice over artist, Maitreyee and her boyfriend Saumitra, a homoeopathic doctor. Maitreyee is a character who lives in the past, her wardrobe filled with useless old memories. She stores everything – Right from her old roller skates to an aquarium.
The twist in the tale happens when Maitreyee visits a meditational centre. She gets the feeling of quitting the materialistic world and entering spiritual pursuits.
Saumitra does not have a clue as to what is to be done as his girlfriend is going to break up for a weird reason. Maitreyee's wise grandmother convinces her to find a GF for Saumitra before saying goodbye to him.
The show has an interesting ensemble of characters both from Maitrayee's and Saumitra's families as well as their group of friends. The lead actors Shivani and Shivraj worked together as a part of the movie Phuntroo in 2015.
The starcast includes the following young but promising actors of Marathi cinema
Actress Shivani Rangole plays the role of the eccentric Maitrayee, the female lead of the show.
Actor Shivraj Waichal will be seen for the first time in a major TV production. He was seen in the movie Phuntroo and Aga Bai Arechya 2
Actor Rohan Gujar, who played the role of Pintya in Honar Sun Me Hya Gharchi is seen on the small screen again. He is playing the role of Maitrayee's friend.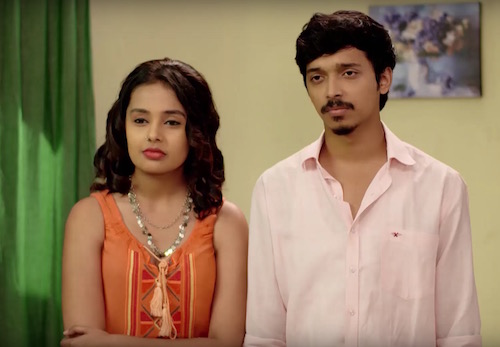 Crew : Director
Produced by : Potadi Entertainment (Vinod Lavekar, Nikhil Sheth & Sandesh Kulkarni)
Directed by : Vinod Lavekar
Music Directed by Jashraj Joshi, Hishikesh Datar, Saurabh Bhalerao
Title Song Written by Valay Mulgund