Name
Shreya Bugde : श्रेया बुगडे
Also Known as / Real Name
Shreya Bugade
Age / How old / Birthday / Date of Birth / DOB
February 2, 1988. As of 2023, she is around 35 years old.
Wedding & Marriage / Husband / Boyfriend
Married to Nikhil Sheth since 2014. Her 'maherchi' and 'saasarchi' family both are from Pune.
Wikipedia Biodata / Profile Background
Introduction :
Shreya Bugde, a popular Marathi actress was born in Pune, but brought up in Mumbai. For her education, she attended the Mithibai College in Bandra, and St. Xavier's school before that. She has one elder sister named Tejal.
Along with Marathi, Shreya has worked in plays in other languages such as English, Gujarati, and Hindi.
She is one of the better comedy actresses of a current lot of Marathi actresses, she is the sole female lead in the Zee Marathi talk show 'Chala Hawa Yeun Dya' and also played a role in 'Fu Bai Fu.' In Fu Bai Fu, she was partnered with Sankarshan Karhade.
Shreya is fond of cooking, as she mentioned in one of her interviews. Her height is around 5 ft 2 inches.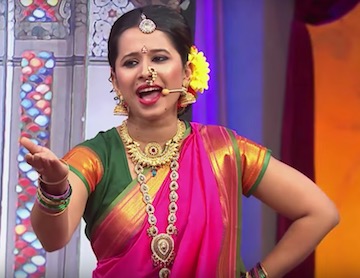 TV Shows / Serials Acted
Fu bai Fu
Chala Hawa Yeu Dya
Chhutta chheda – Gujrati Serial
Thoda Hai Bas Thode Ki Zaroorat Hai – Hindi
Fu Bai Fu Naya Hai Yeh
Natak / Plays Acted