Name
Sumukhi Pendse l सुमूखी पेंडसे
Age / How old / Birthday / Date of Birth / DOB
Wikipedia Biodata / Profile Background
Sumukhi Pendse is a veteran Marathi and Hindi actress.
Born in Mumbai, she went to IES school in Dadar area. She later completed her college education in Kirti college and got an architecture degree in Rachna College. She also has a Masters sociology degree and also speaks German. Indracha Aasan was her first marathi natak.
Shanti was her debut serial in Hindi. She has acted in over 25 serials in Hindi and Marathi, along with a few films as well. She has done a few negative roles.
She is fond of pet dogs.
Marital Status / Wedding & Marriage / Husband / Partner
No concrete information available on this.
Career Span
1996 – Present
TV Shows / Serials Acted
Shanti
Faasle
Jaane Kahan Mera Jigar Gaya Ji
9 Malabar Hil
Saturday Suspense
Kitty Party
Just Mohabbat
No Problem
Kartavya
Cincinnati Bablaboo
Shaka Laka Boom Boom
Sonpari
Kamal
Kahaani Teri Meri
Kusum
Mamta
Sangam
Sindoor
Saat Phere
Aise karo na Vida
Saubhagyavati bhav
Colonel Chanakya
Aplach Ghar
Ya sukhano ya
Maziya priyala preet Kalena
Pinjara
Bandh Reshmache
Missiondosti.com
Ek Mohor Abol
Swapananchya palikadale
Natak / Plays Acted
Indrache aasan naradachi Shendi
Othello
Aadibandhaatmak Vaandha
Kharra Khurra Inspector
Abhilasha
Jodi Gulabi
Aapasatalyaa Goshti
Ain Vasantat Ardhyaa Raatri
Sundar Mi Honaar
Sthal Snhehmandir
Chitrapat / Films / Movies Acted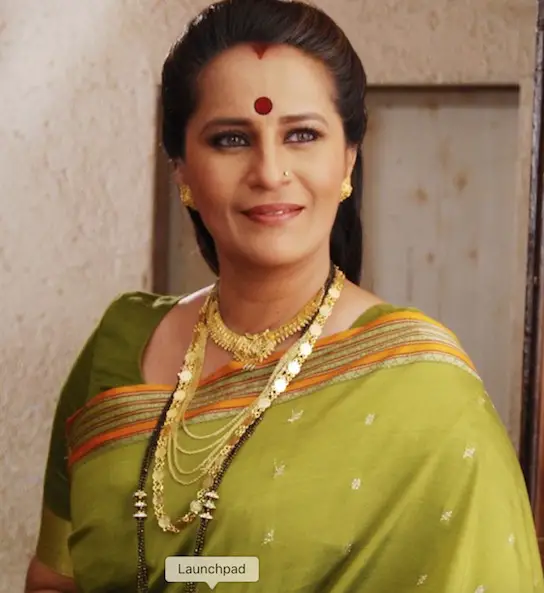 Height and Weight
Her height is around 5 ft 8 inches.
Most Memorable Role
In Swapnancha Palikadle