Name
Emma Rechenberg
Birthday / Age / Date of Birth / How old is Emma Rechenberg
Born on June 26, 1995. As of 2021, she is around 26 years old.
Biography Profile / Wiki Information
Introduction :
A rising American TV news reporter, Emma Rechenberg covers breaking news and politics for Newsmax T.V.
Lauded for her reporting, anchoring, and producing skills, Emma has previously worked for NBC affiliate television stations in Missouri and Minnesota.
Personal Life, Parents and Family Background :
Originally from St. Louis, Missouri, Emma Rechenberg celebrates her birthday on June 26 every year.
She is pretty close to her sister, Kathryn Rechenberg, and her little brother. Their close relationship is quite visible from her social media posts.
Currently, Emma is dating a guy named Nick Fitzgerald. From the looks of their Instagram profiles, the couple might share the wedding vows sooner or later.
On February 17, 2020, Emma's boyfriend Nick shared a picture captioning, "Best week with the best girl #valentine." She also replied, saying, "Lucky to celebrate with you, with a love emoji."
Early Life and Education :
Emma is a proud graduate of one of the top-ranked journalism schools in the country, The Missouri School of Journalism, University of Missouri (Mizzou), in 2017. She earned her Bachelors of Journalism degree, majoring in Television reporting and anchoring.
She also has a Digital Global Certificate and Multicultural Certificate under her belt.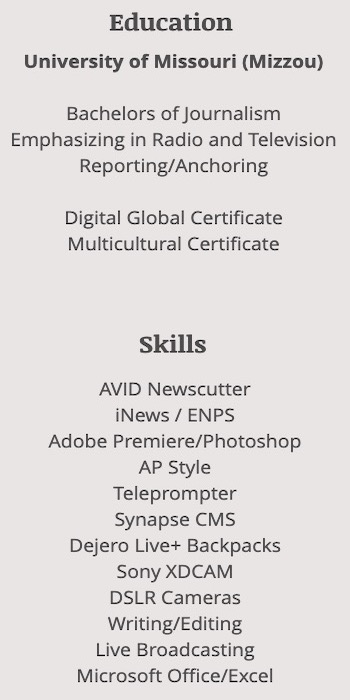 Career, Salary & Net Worth :
Emma worked as a Multimedia Journalist for KOMU & Mid-Missouri C.W. from August 2014 to May 2017. She gained experience anchoring morning and nightly newscasts.
In May 2015, Emma worked at KTVI Fox 2 as a summer intern. She filmed daily digital trending topics at the FOX 2 studio, a segment about viral stories nationwide.
Emma started working as a Reporter for KBIA 91.3 FM in August 2015. She pitched original story ideas and conducted interviews for reports.
From May 2016 to August 2016, Rechenberg worked as a Lifestyle Reporter with Business Insider. She covered luxury real estate, the gourmet food scene, and stunning travel destinations.
Emma Rechenberg worked as a Morning Anchor, Reporter, and Producer for KBJR-TV from June 2017 to June 2019.
From October 2019 to December 2019, Emma served as a Citizen News Reporter. She reported on breaking news and crime in New York City and cities across the USA.
Since January 2020, Emma has been employed at Newsmax Media Inc. She is a co-host of 'National Report' at 9 a.m. EST, alongside Shaun Kreisman. Emma and Shaun have interviewed famous personalities like Clay Clark, Dr. Peter Hibbard, and others. She also reports on breaking news for the Newsmax News Minute show.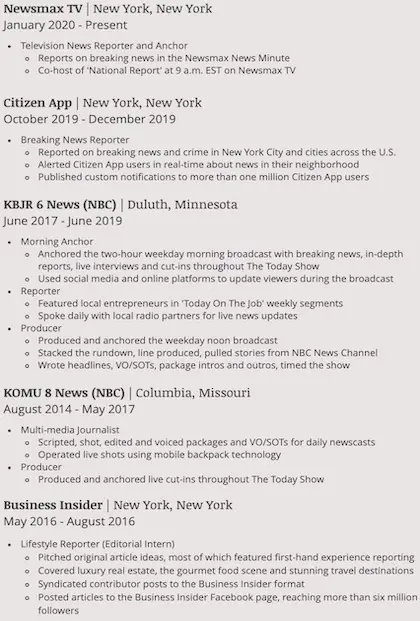 Interesting Facts, Height & Trivia :
While at KBJR 6 News, Emma received an Upper Midwest Emmy Award in 2018 for her weekday noon newscast.
Emma has interviewed U.S. Senators, state governors, local lawmakers, legal analysts, medical professionals, business executives, Olympic athletes, and environmental advocates.
Emma cherishes her visits with family to her hometown of St. Louis, Missouri. Her Instagram is full of photos about how much she loves home. In a post on NOVEMBER 24, 2017, Emma made it home to Missouri to celebrate all the things she was thankful for, including desserts and her little brother. She also wished her fans Happy Thanksgiving.
As a lifestyle reporter, Emma explored New York City and taking in everything New York had to offer back in the summer of 2016 while interning for Business Insider. She posted gorgeous photos of her experience on her Instagram.
As per her informational interview on the 'Kick-Ass in Life' Podcast, Emma always dreamed of working in New York. When she first moved to NYC, she had no job, but she persevered. After her contract with a local TV station ended, Emma moved because she considered it was the right time to start living full term in New York. She had first fallen in love with the city during her summer internship on Business Insider.
Marriage & Wedding / Husband / Spouse / Partner
Currently not married.