Name
Alex Kraemer
Age / How old / Birthday / Date of Birth / DOB
February 19th. As of 2022, she is around 31 years old (an article in
Luxury Magazine
, back in 2014, had specified her age as 23.)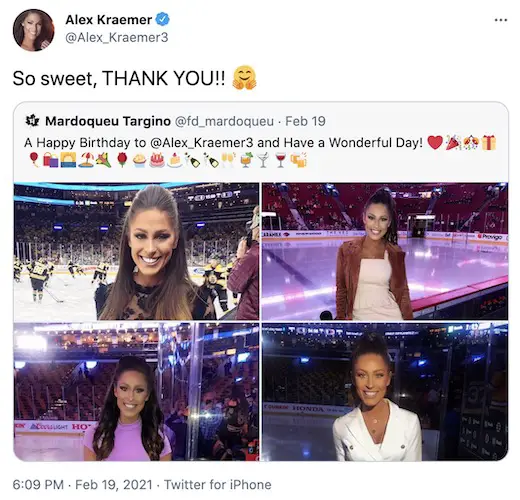 Wiki Biography / Profile Information
Introduction :
Originally from Lawrenceville, Georgia, Alex Kraemer is an American news reporter, currently working for NewsMax TV. Prior to Newsmax, she was a sports reporter based in Boston, Massachusetts, from August 2017 to August 2019.
Beautiful & athletic, Kraemer always had her eye set on a career in broadcasting ever since she was a little girl.
Personal Life, Parents & Family Background :
Active and in love with sports from a very young age, Alex played for the Region III Premier League Team as well as the Olympic Developmental Team.
She won multiple championships playing elite soccer in school but ended her career abruptly as a result of two serious knee injuries before starting college.
There is little else known about Alex's family or personal life as she chooses to keep a low profile when she is off-camera.
Education : Qualifications, High School & College Info
Alex attended the University of Georgia where she majored in Psychology, specifically Sports Psychology. She graduated 'Magna-Cum-Laude' in 2013 with a Bachelor's Degree in Psychology.
While studying at the University of Georgia, she served as an assistant to the school's Sports Facilitator and was a part of the Diamond Darlings squad.
Alex remained at the University of Georgia and graduated in December 2014 with a Master's Degree in Science (Sports Management).
Profession Timeline : Job, Salary & Net worth
Alex began her career in college, interning for local team baseball promotions, the Atlanta Braves and the Gwinnett Braves. Here, she carried game-day promotions and worked as an assistant to the main host.
While in graduate school, Alex had interned for Emory University's Event Management and Promotions team and then later on for their basketball team. She also served as a weekly host for the Association for the Protection of Collegiate Athletes' web series.
She also discovered spokes and promotional modeling while in school and made the decision to venture into sportscasting.
Alex began her journey as a broadcasting and media assistant for ECHL's Gwinnett Gladiators, writing game home post-match press releases and serving as the play-by-play broadcaster's assistant.
Alex has spent most of her early career working in Georgia. Some of her career highlights including working as the Gladiators' Rinkside Reporter, serving as an on-camera reporter during the 2014 to 2015 Hockey season, and interviewing players of the Gwinnett Gladiators team.
She was promoted to a post-match interviewer and got the chance to interview players straight from their bench.
Alex's career continued to soar as she hosted and reported for the NHL's Philadelphia Flyers for two complete seasons.
In 2016, she hosted "Run it Back," a series created by Whistle Sports.
From August 2017 to August 2019, Alex was a rinkside reporter for the Boston Bruins as part of the New England Sports Network (NESN), which is based in Boston, Massachusetts. She also reported for the MLS's New York City FC, interviewing players, coaches, and even fans.
Social Media & Trivia :
Alex is quite popular on social media and has over 25,000 followers on Instagram.
She loves to post photos of behind the scenes adventures of work as well as pictures of her friends and family.
She also receives a lot of attention for her breathtaking looks and smart, charming personality.
Besides work, Alex has worked as a voluneteer for the "No Dogs Left Behind" event & also for the "Athens Animals Shelter."
In 2014, she was featured as ar part of "50 Most Beautiful People in Atlanta" list, done by the Luxury Magazine.
Body & Other Vital Info
(**all data verified from her Backstage modeling profile)
Alex Kraemer Measurements :
Eye Color : Green
Haircut / Hair Color : Brown
How tall / Height : 5' 7"
Pregnant ? : Currently, she is not expecting a baby.
More Details :
Marital Status / Married? : No
Children / Kids : —
Ethnicity / Origin / Heritage / Race : Mixed
Nationality : American
Wedding & Marriage / Alex Kraemer Husband / Engaged / Fiance
Currently not married, possibly single. Check the full bio for relationship details.