Name
Lauren Casey
Age / How old / Birthday / Date of Birth / DOB
Born in January 1981. As of 2022, she is around 41 years old.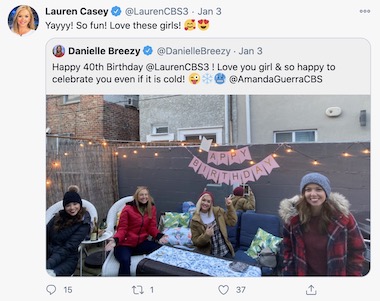 Wiki Biography / Profile Background
Introduction :
Lauren Casey is a meteorologist for the Eyewitness Weather Team on CBS 3.
Personal Life, Parents and Family Details :
Lauren is a native of Pennsylvania, and was born in Lancaster.
Although born in Lancaster, she considers South Jersey her home. It is where her mother and her grandparents live.
She graduated from the Rutgers University in 2006 with a Bachelor of Science in Meteorology.
Currently, she is not married and is a dog-mom to her pets Edgar & Chi Chi.
Professional Timeline : Salary and Net worth
While she was at Rutgers, Lauren did an internship with the National Weather Service in Mount Holly, New Jersey. She was also a trainee at WCAU-TV in Philadelphia.
She was hired by WMGT-DT in Macon, Georgia as a meteorologist in 2006. Lauren remained there for around two years. It was here that she gained most of her experiences in severe weather forecasting, from hailstorms to tornadoes.
In December 2008, she made the switch to WINK-TV in Fort Myers, Florida, to work in a similar role for a period of nearly three years.
Casey then relocated to St. Paul, Greater Minneapolis to provide weather forecasts and updates for WCCO-TV & continued to be employed there until September 2015.
For family reasons, Lauren secured a job with CBS News in Philadelphia to be closer to her mother.
Interesting Facts and Trivia :
Lauren is a Certified Broadcast Meteorologist (CBM), awarded by the American Meteorological Society (AMS) as a recognition for being one among the best.
She is also active in giving back and sharing her knowledge with the community, in order to better educate the less-informed about the weather.
In 2016, she hosted the Kidcaster auditions in Pennsylvania to give children the opportunity to boast their forecasting skills on television.
She also visited the Watertown-Mayer Public Schools to give a presentation about the use of mathematics in real-life weather forecasting.
Lauren enjoys spending time outdoors. Some of the places that she has been to are the parks of Zion, the Glacier National Park, the Grand Teton and also the Grand Canyon.
She was featured in a public speaking video guide about tone and facial expression variation when delivering a presentation.
Casey also sells her own line of t-shirts (brand name WeArEverTheWeather) that are printed with creative infographics of different weather conditions.
She once did a Minnesota weather discussion segment with German meteorologist correspondent, Ingo Zamperoni at Cologne, Minnesota, which is the sister city of Cologne, Germany.
An advocate for animal welfare, she frequently tweets about charity drives for various animal welfare organisations.
Lauren is popular on Twitter, with more than 8000 followers on the platform.
Body & Other Vital Info
Lauren Casey Measurements :
Eye Color : Blue
Haircut / Hair Color : Blonde
How tall / Height : No confirmed information available.
Feet / Legs / Boots / Shoe Size : No confirmed information available.
Pregnant? : Currently, she is not expecting a baby.
More Details :
Marital Status / Married? : No
Children / No. of Kids : —
Ethnicity / Origin / Heritage / Race : White
Lauren Casey Nationality : American
Wedding & Marriage / Husband / Boyfriend / Partner
Currently not married, possibly single. Check the full bio for relationship details.