Name
Nancy Chen
Age / How old / Birthday / Date of Birth / DOB
Born in 1988. As of 2023, she is around 35 years old.
Wikipedia Biography / Profile Background
Introduction :
Nancy Chen is an American journalist & anchor who worked for many years with WJLA-TV, an ABC7 station based in Washington D.C. In February 2020, Chen began her career with CBS News.
Personal Life : Parents, Family and Education
Nancy was born in Texas but was raised in Tulsa, Oklahoma. Her parents still continue to live there.
After graduating from high school, Nancy went to the University of California as a Trustee Scholar on full scholarship. She graduated with a Bachelor's degree in International Relations. She has also studied Chinese at Peking University in Beijing.
During college days, she worked as the Managing editor of the China Institute's Magazine US-China Today.
She had the opportunity to intern at some well-known places – At NBC Universal at their Beijing Bureau, at ABC News; for Good Morning America at the LA Bureau. With GMA, she assisted in covering the 2007 Golden Globes event & the Oscars.
Career, Income, Salary and Net Worth :
After working with CBS News' Newspath division since February 2020, Nancy joined CBS News as a New York correspondent in 2021.
Prior to CBS, Nancy was employed with ABC7 (WJLA-TV). She was there from April 2017 there until 2020. Before that, she worked at WHDH-TV in Greater Boston Area for five years as the fill-in-anchor for the weekday show Today in New England. She was also their weekend anchor.
Prior to WHDH, Chen worked in San Luis Obispo, California, for KSYB as a multimedia journalist. Here her main stories included the live coverage during the tsunami evacuations & the Amgen Tour of California.
In August 2008, Nancy was a production associate during the NBC Olympics. She was part of the team that produced for NBC Sports during the 2008 Summer Olympics in Beijing.
She also has some experience as a print reporter as she had worked for the newspaper Tulsa World for close to three years.
Interesting Facts, Height and Trivia :
When she is not working, Nancy likes staying active by running & exploring the outdoors. She loves cooking and enjoys the company of her friends and family, mostly during the holidays.
An admirer of good fashion, she especially likes dresses that have pockets.
She loves drinking coffee; especially in the morning, to kick-start her day.
While working at WHDH, Nancy covered major stories such as the Boston Marathon bombing & its aftermath, the 2015 Super Bowl, a royal visit by the Duke and Duchess of Cambridge, and a Medal of Honor ceremony at the White House.
In 2022, CBS This Morning received the prestigious Emmy Award for "Outstanding Live News Program" at the 43rd News and Documentary Emmy Awards. Chen was listed as a correspondent in the award, a testament to her outstanding reporting skills.
How tall is Nancy Chen Height : 5′4″ (confirmed information)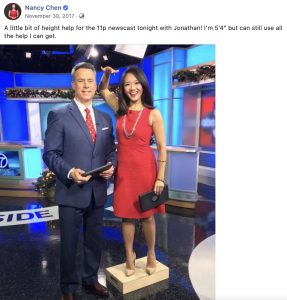 Wedding & Marriage / Husband / Dating / Partner / Boyfriend
Currently in a relationship.