Name
Lucy Zelic
Birthday / Age / Date of Birth / DOB
November 9, 1986. As of 2020, she is around 34 years old.
Biography Profile / Wikipedia Information
Introduction :
Lucy Zelic is an Australian sports television presenter for SBS.
She is the younger sister of famed former Australian footballers Ivan Zelic & Ned Zelic.
Family Background & Education :
Lucy was born on November 9, 1986, and is from Canberra, Australia.
Parents : Lucy was one of three children of Frank Zelic and his wife. Her father is originally from Croatia and moved to Australia when he was only 20. He boarded a ship for 30 days & worked in a Holden car factory.
Her mother came along 18 months after her father, and she too worked in a factory.
Lucy's parents were only married for three months before they made the move to Australia.
Later, Lucy's dad Frank created his own building firm – Zelic Homes after working as a bricklayer for some time.
Education : Lucy holds a degree of Journalism and Sports Business from the University of Canberra since 2010.
She grew up under the influence of her brothers Ivan & Ned, who played football professionally. Combined with her love for writing, Lucy made the decision to pursue sports business and journalism.
Her mother was diagnosed with bowel cancer in 2012 & Lucy reveals that it brought her family closer together.
TV Career, Salary & Net Worth :
While still in university, Lucy began working at the Australian Capital Territory (ACT) community radio station 2XX FM. There she hosted football coverage segment called The Far Post.
After her graduation, she could not secure a position & worked in HR department of the Attorney General's Department for a while.
Later, Zelic became a commentator for the W-League matches of the Canberra United F.C all-women's football club.
She was then picked up by Canberra's Mix 106.3 FM to guest-host the Balls and All football show.
Zelic has also hosted the A-Leagues podcast for Football Federation Australia for 2012-13 season.
She was also hosting the podcast Nearpost around the time.
Lucy joined SBS in 2013 as a sports television presenter, reporting pitch-side on Friday nights on SBS ONE's live Hyundai A-league matches.
In 2015, Zelic was one of the hosts in SBS Sydney for Women's FIFA World Cup and was awarded Best Coverage of Women in Sports by the 2015 Australian Sports Commission Media Awards.
As of 2018, she hosts The World Game, an Australian football show on SBS.
Awards & Achievements :
Lucy was also a finalist in Miss Universe Australia 2007.
She was a nominee in the magazine Cosmopolitan Australia 2014 for the Fun, Fearless, Female Television Personality category.
In 2014, she was also nominated for a Logies award in the Newcomer category.
She was also a nominee for the Peter Leonard Scholarship in 2010.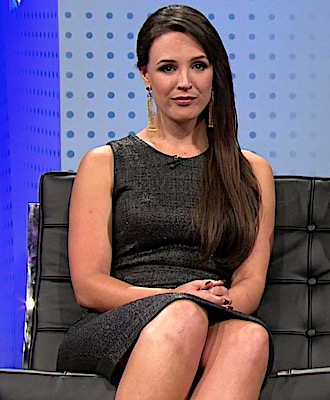 Interesting Facts, Height & Trivia :
Lucy enjoys playing golf in her free time & loves to read as well.
Quite popular on social media, with over 75,000 followers on her Twitter account & over 20,000 on Instagram.
Marriage & Wedding / Husband / Dating / Boyfriend
Lucy was previously involved in a 3 year relationship prior to 2012. The name of her ex-boyfriend is not publicly known. It is unclear if she is currently in a relationship.