Name
Sara Leonardi ( Also known as : Sara Leonardi McGrath )
Birthday / Date of Birth / What Age is Sara Leonardi
As of 2022, she is around 39 years old. A Jan 2022 article on her in the DailyMail had mentioned her age as 39.
Wikipedia Biography / Profile Information
Introduction : Who is Sara Leonardi ?
Sporting beautiful brunette hair, Sara Leonardi is an Italian interior designer, but she is better known for being the Australian cricket player Glenn McGrath's wife.
Family & Personal Details :
Sara was born in the USA, but she was raised mostly in Sicily, Italy.
She is an interior designer by profession.
Sara's lips appear to have significantly enlarged since her first photos surfaced in 2010. This could be the result of a lip filler surgery.
Marriage to Glenn McGrath :
She is married to Glenn McGrath, an Australian cricket player. They met at a party in Cape Town in April 2009.
McGrath had lost his first wife Jane in 2008 due to breast cancer, and Sara helped him recover the grief of losing his wife. After seven months of dating, they got engaged. They got married on 18th November 2010.
They had two weddings, one in Sydney, Australia, and the second wedding in Sicily, Italy, where Sara's parents live.
Sara is the Stepmother of Glenn's children from his previous marriage to late wife Jane McGrath – James McGrath (15) and Holly McGrath (13).
Sara and Glenn welcomed their first biological child…a baby girl, Madison Mary Harper McGrath, born in September 2015 after having some trouble trying to conceive (Glenn had to undergo a procedure to bypass his vasectomy and Sara went through two rounds of IVF)
TV Career, Job, Salary & Net worth :
In 2014, Sara was the face of a Japanese natural range of hair products, called Suigo.
She used to have a food blog called "The McGrath's Kitchen blog." She is passionate about nutrition, so she felt obligated to cook good food for her family. In the blog, she shared some healthy recipes.
Looks, Body Measurements & Fun Facts :
Sara has a Twitter account but it is not verified and she rarely uses it. She has used the account to complain several times about companies or airlines. She also has a non-verified Instagram page on which she regularly uses and posts pictures of her daughter and husband.
After marriage, she changed her name to Sara Leonardi McGrath.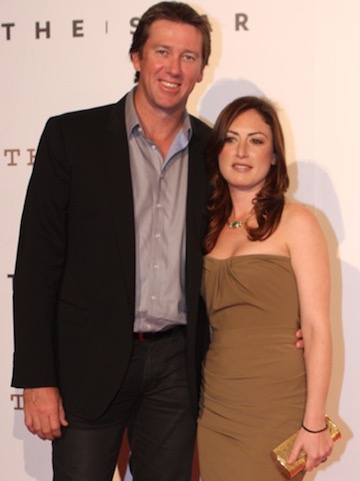 In 2012, Sara was sentenced to a one-year good behaviour bond since she was caught drink driving. She said it was a mistake since she thought she drank an alcoholic-free mocktail. The Magistrate accepted that Sara had made an error of judgment.
Sara declared that when she began dating Glenn, she had a bad time since people and the media thought she wanted to replace Glenn's late wife. The family is often photographed going to the beach or having lunch together.
Sara is committed to parenting and loves the arts. She has an Art Gallery in Sydney that is sponsored by her husband. It is called McLemoi Gallery since she works with Kristia Moises, a fellow American and art history specialist, so the name of the gallery is a combination of their names.
Wedding & Marriage / Husband / Spouse / Partner / Boyfriend
Married to Australian Bowler Glen McGrath.