Name
Alaina Pinto
Birthday / How old is Alaina Pinto Age / Date of Birth / DOB
It says on her
Twitter
account that Alaina was born on April 10th. Estimating from her social media profiles, she seems to be in her late twenties, as of 2022.
Wikipedia Bio / Profile Background
Introduction :
Chances are you are a fan of this chirpy young broadcast journalist who comes on 7 News WHDH with the latest traffic updates.
Being in front of the camera comes naturally to Alaina Pinto, who has been part of the media fraternity from a very young age.
This television journalist with an adventuring soul loves to holiday and visit places, and at the same time, she also does charities supporting causes close to her heart.
Personal Life : Parents, Family and Education
Alaina Pinto was brought up in the area west of Cleveland as a child.
Alaina completed her Bachelor of Arts (B.A) in Media Productions and Radio/ TV from the University of Akron from (2010-2014). She minored in theatre.
Even as a student at the University of Akron, Alaina proved that she was quite resourceful by becoming the Visitor Relations Student Assistant & Student Director of Tour Training. She was a part of the Alpha Delta Pi sorority.
She even employed her public speaking skills to give tours to prospective students and also recruited for the University.
Soon, she grabbed an internship with both hands at WJW Fox 8.
TV Career, Job, Salary and Net worth :
Alaina began her career as a Health Unit intern with Ideastream handling their production operations. She had to research, edit, light, do guest relations, do field shoots, and create logging tapes as part of her assignments.
She became a part of WVNY and WFFF in Burlington, Vermont Area, when she joined as a Reporter in 2014 and continued working there till 2016.
Until October 2020, Alaina worked as the traffic reporter for 7 News WHDH in New England, where she joined in December 2016. Pinto was fired from this job after she starred in a movie, Hubie Halloween starring Adam Sandler and mistakenly violated her contract.
Source : Twitter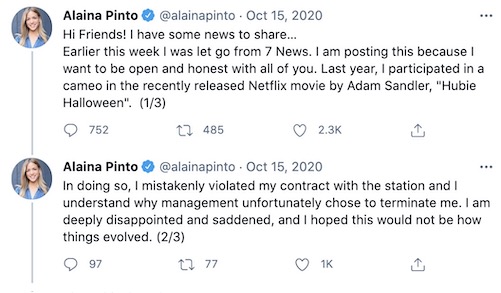 Interesting Facts, Height and Trivia :
Alaina enjoys snowboarding when she is not in the newsroom. Her other interests also include playing the ukulele.
Pinto has the soul of an adventurer & loves discovering new places. In Boston, where she moved for her work, she said that she was looking forward to indulging in new adventures.
Alaina was nominated for two student Emmys in 2012 and 2013 for her work as Editor, Host, and Promotions Director while she was in college. She claims she created, planned, and implemented new promotional initiatives as part of her tenure.
Alaina describes herself as a squishy cat mom and sunshine worshipper on her social media bio.
As part of a social good initiative, in July 2017, Alaina undertook a roller coaster challenge at Six Flags Amusement Park where she rode 13 roller coasters along with 22 other people for a charity. The 100 tickets that she scored were donated to the Boys and Girls Club of Boston.
She also hosted a children's party for the patients as part of One Boston Day at Boston Children's Hospital. The event was organized in support with Ben and Jerry's Ice Cream and Papa Gino's Pizza. Toys were donated for the children by Target.
A budding yoga enthusiast, Alaina tries to practice at least once a week & can do an almost perfect headstand.
Wedding & Marriage / Husband / Dating / Partner / Boyfriend
No confirmed information available.