Name
Darlene Hill
Wedding / Husband / Engaged / Marriage / Boyfriend
Married. See below for more details.
Biography Profile / Wiki Information
Introduction :
Darlene Hill claims that she is blessed with the gift of gab & says the journalist bug bit her in the year 1980, while she was in middle school.
Having fought prejudice, Darlene remembers that her professors at Ohio State University favored fair-skinned Caucasian students. They often proclaimed that it would be difficult for Darlene to get into the career as a journalist and even difficult to stay in business.
She learned perseverance and her never-give-up spirit, right from her first job.
Darlene, who has reported every beat of the news which includes the Democratic National Convention to the 2008 Presidential Inauguration, says it has been tough getting stories because of being a woman, and it doesn't necessarily have to do with her ethnicity.
She operates on the policy that even though it's a piece of two-minute news for her, it could be the rest of their life for the viewers.
Early Life, Education & Family :
Darlene was born and brought up in Toledo, Ohio.
She has two children both of whom are now grown-up.
Darlene lived in Chicago, Illinois for a major portion of her life. In 2018, when she joined a network in Columbus, Ohio, she said "thanks for letting Chicago borrow me for 25 years. Now I am coming home and going to show everyone how much I've missed them."
She completed her high school from Rogers in the year 1984. This was followed by graduation from the Ohio State University in 1989.
Career, Income, Salary & Net Worth :
Darlene's career began a few weeks after finishing her graduation in journalism from University!
She was offered the job of a reporter for a CBS affiliate in Monterey, California, where she had to carry a huge camera, write, edit and report stories.
She was with Fox 32 for over two decades, primarily working as a general assignment reporter. Later, she was also promoted to be a co-anchor of Fox Chicago Sunday, a political show on the network. In Nov 2017, Darlene left the channel after a long 23 years old association. The departure of Hill after 23 years from FOX WFLD-Channel 32 was on the top 10 most-read stories for The Daily Herald in October 2017.
In September 2018, Darlene Hill joined NBC4 in Colombus, Ohio, becoming the station's 4:00 p.m. and 5:00 p.m. anchor.
Interesting Facts & Controversies :
When Darlene was pursuing her journalism course at the Ohio State University, she says other than her there were only a couple of African-American women in her class.
She idolized one female African-American news anchor on ABC while growing up, and she says this validated her choice of profession.
Darlene appeared on the Dr. Oz Show and took on the diet challenge and was invited on the show to talk about her amazing results.
She is a member of the Alpha Kappa Alpha sorority.
Awards & Achievements :
Darlene has won numerous Regional and National awards while working in Chicago.
She won the prestigious Peabody Award for reporting about the high school junior student who was beaten to death near his school. The case caught national attention when she procured a video footage of the killing, shot from the mobile phone camera by a student.
She is a recipient of the Edward R. Murrow, Chicago Emmy Awards and The Gracie Award.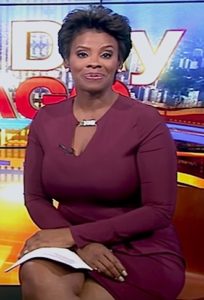 Body Info / Physical Features
Darlene Hill Measurements :
Eye Color : Black
Hair Color : Black
How tall is Darlene Hill Height : 5′ 7″
Feet / Legs / Shoe Size : No confirmed information is available
Pregnant ? : Currently, she is not expecting a baby.
Married? : Yes
Darlene Hill No of Kids : 2
Ethnicity / Origin / Heritage / Race : Black
Nationality : American
Birthday / Date of Birth / Age / How old / DOB
August 27, 1966. As of 2020, she is around 54 years old.