Name
Kristen Nicole
Wedding / Kristen Nicole Husband / Engaged / Marriage / Boyfriend
Married. See below for more details.
Birthday / Date of Birth / Age / How old / DOB
As of 2020, she is around 37 years old.
Biography Profile / Wiki Information
Introduction :
Her strong storytelling skills coupled with passion for journalism is probably what attracted Tom Doerr, Vice President & News Director at Chicago Fox owned WFLD to hire Kristen Nicole as the solo weekend anchor for the programme Good Day Chicago.
Considered as a brilliant asset for the channel's morning newscast, Kristen was later promoted to the weekday anchor position replacing George Smith and joined Natalie Bomke on the morning slot of Good Day Chicago from Monday to Friday.
This young beauty claims that Chicago is a treasure trove of opportunities for journalists like her and she was ready to get it going and explore the city's hidden gems.
Early Life, Education & Family :
Kristen is an Indianapolis native.
She got married in November 2015.
Her sister lives close to Lexington, Kentucky. She has a son and two nephews.
Education : Kristen completed her graduation from DePauw University in Greencastle majoring in Communication with a minor in Sociology in the year 2004.
Career, Income, Salary & Net Worth :
Prior to joining WFLD, Kristen worked as an anchor and reporter for WLEX in Lexington, Kentucky.
Kristen has worked for WISE-TV in Fort Wayne, Indiana where she worked as a general assignment reporter
She first began her career as an intern with WBBH, an NBC affiliate in Ft. Myers, Florida.
Interesting Facts, Height & Controversies :
Kristen Nicole is originally Kristen Pflum and took on the former name professionally.
It is her love for horses that initially pushed Kristen to choose journalism and media as a career. The story goes that when she was growing up in Indianapolis, when she was in her middle school, she happened to watch journalist Anne Marie Tiernon who came to her house to do a story on a virus crippling several horses. Kristen decided she also wanted to tell stories affecting people's lives.
Even though she first joined the radio programme in DePauw University, she soon moved to television news.
She has a passion for travelling which she discovered while at Depauw University when she got a chance to travel to Fiji, Australia and New Zealand.
She highlights meeting the 'Crocodile Hunter,' exploring the beaches in New Zealand and Outback in Australia as some of her best memories from the trip.
In Aug 2017, Kristen was recently body shamed for wearing a dress which showed her baby bump and criticized her choice of maternity wear. She took to Facebook to write about the issue.
Kristen played a role in exposing Gary Thompson, a bogus beggar and worked closely with the authorities to uncover his social security and welfare scam landing him in federal prison.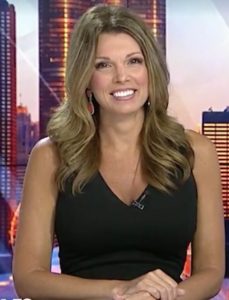 Awards & Achievements :
Kristen has received the 'Best News Anchor' award and the 'Best Television News Reporter' award from the Associated Press while she was a part of Lexington, Kentucky, NBC affiliate WLEX-TV.
She has also won awards in 2005 during her college days when she was awarded "Best News Reporting" in the Society of Professional Journalists' "Best of Indiana" competition while she was part of DePauw University Student run television operation D3TV.
Body Info / Physical Features
Kristen Nicole Measurements :
Eye Color : Brown
Hair Color : Brown
Kristen Nicole Height : 5′ 9″
Feet / Legs / Shoe Size : No confirmed information available.
Pregnant ? : Currently, she is not expecting a baby.
Married ? : Yes
Kristen Nicole Children / Kids : 1
Ethnicity / Origin / Heritage / Race : White
Nationality : American