Personal Information Summary
Name
Kaitlin Cody
Wedding & Marriage / Engaged / Husband / Boyfriend
Married. Check the full bio for relationship details.
Where does Kaitlin Cody live?
Kaitlin Cody lives in Chicago.
Children / No. of Kids
1
Ethnicity / Origin / Heritage / Race
White
Nationality
American
Birthday / Date of Birth / Age / How old / DOB
April 8, 1990. As of 2023, she is around 33 years old.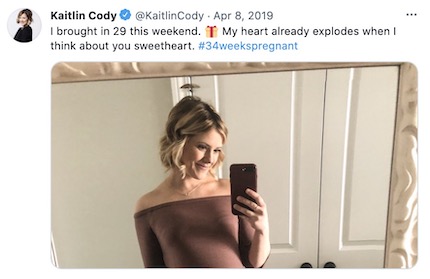 Wiki Biography / Profile Background
Introduction :
Kaitlin Cody works as the Weekday Morning Meteorologist for WFLD, Fox 32 News in Chicago.
Personal Life : Parents, Family and Education
Kaitlin is a native of Detroit, Michigan, so being back in the Midwest is a delight for her.
She is married to her husband Grady, whom she met while working in Bristol, Tenn. The couple had their first child – A baby daughter born in May 2019. The family now lives together with their two dogs Luke and Charley.
In 2008, Kaitlin enrolled for college at the Central Michigan University where she graduated in 2012 with a Bachelor of Science Degree in Atmospheric Science and Meteorology and a Math minor.
While at college, she was a member of Alpha Chi Omega Sorority.
Internships :
Cody's career started while still in college working with News Central 34, Michigan, University, as a meteorologist.
While there, she anchored 5 p.m. and 6 p.m. live news, held interviews, and produced graphics for the forecast by using Weather Central and Galileo Weather System.
While still in college, she also worked as an intern at WJBK.
From September 2011 to December of the same year, Kaitlin worked for WMHW Modern Rock 91.5 and Mountain 101 Radio Station based in Mount Pleasant, MI. Here, she presented daily forecasts for the radio using Adobe Audition and ENCO.
Career and Professional Timeline :
Straight out of college, Kaitlin landed a job at WCYB in Bristol. There, she reported the weather forecast and covered all aspects, from ice storms to flooding.
Afterwards, she moved to Charlotte, NC & joined the WCCB team to fill in as a replacement for Jacinda Garabito, who left the station to go work for a ministry.
While at WCCB, Kaitlin covered the morning show, Rising, Monday to Friday. She also got the opportunity to cover Hurricane Matthew that was in Myrtle Beach and conduct day-to-day weather forecasts for the Coast of North and South Carolina.
Ever she was in high school, Kaitlin had always wanted to work in Chicago and is grateful for the opportunity to work there.
In May 2019, Cody became a AMS Certified Broadcast Meteorologist.
Kaitlin Cody Salary and Net Worth :
As per Salary(dot)com, the average median salary of a Chicago Meteorologist is $106,357 per year. The salary range is $82,159 to $132,056 annually. ZipRecruiter gives the average salary as $70,319/year, while the PayScale website mentions $79,425 annually for the same position.
Drawing from this data, we get a rough estimate of Kaitlin Cody's salary. Considering her work experience, her annual income will be higher than the figures mentioned above.
Fun Incident on TV :
In January 2017, Kaitlin had a fun incident on live TV.
This came after she heard that Adam Driver, the star of "Star Wars: The Force Awakens," would feature in Snicker's upcoming Super Bowl spot during a commercial that was referenced in her show News Rising.
Amidst her laughter, Kaitlin tried to explain to her colleagues that she thinks Adam Driver is among the funniest people in the world after watching the show Girls, where Adam is an actor.
She made the situation worse when she added that she thinks that Adam kind of looks like her brother, which led to the rest of the news team cracking up. Cody's efforts to deliver the morning forecast proved to be futile.