Name
Midwin Charles
Birthday / Age / Date of Birth / How old / DOB
July 17, 1973 – April 6, 2021. Midwin passed away at the age of 48.
Biography Profile / Wiki Information
Introduction :
Midwin Charles was a Haitian-American lawyer, legal analyst, and legal contributor from Brooklyn, New York.
Smart and outspoken, Midwin was never afraid to speak her mind and often confronted former US President Donald Trump publicly for inflammatory comments he made about Haiti and 3rd world countries in Africa and Asia.
Personal Life & Family Background :
Midwin's parents were born and raised in Haiti but decided to move to the USA in order to pursue a new life for themselves and their children.
Midwin was born in 1973 and grew up in the 1970s & 80s in Brooklyn, New York. Her house was a one-bedroom apartment situated in the East Flatbush neighborhood, which had mainly residents with Caribbean heritage.
She had a sister, who is an NYU graduate.
Midwin's parents divorced when she was very young, and her mother raised her & her sister through many sacrifices. Her big family, including many aunts and uncles, too played a supporting part. Her mom used to work as a Nanny for a white family.
Her family was the main influence behind Midwin's decision to become a lawyer. She said in a personal interview that seeing people taking undue advantage of her family because they didn't understand American culture made her angry and determined to ensure other immigrants didn't suffer the same fate.
Early Life & Education :
Midwin graduated from Syracuse University with a Bachelor of Arts Degree in African American Studies and International Relations in 1995. She also spent a semester abroad studying in Harare, Zimbabwe.
Charles earned her Juris Doctor of Law from the Washington College of Law at the American University in 1999.
Job, Salary & Net Worth :
After her studies, Midwin joined the Sixth Circuit at the United States Court of Appeals in September 1999 and spent eight months working as Honourable Eric L. Clay's Law Clerk.
From April 2000 to September 2000, she was Professor Charles J. Ogletree Jr's Research Fellow as part of the A. Leon Higginbotham program.
She then joined the law firm Fried Frank Harris Shriver & Jacobson LLP in September of 2000 & spent a little under 6 years working as a Senior Litigation Association.
She spent another year working for the TruTV show In Session as a Legal Contributor.
For over a decade, Midwin had worked as legal analyst, working with various networks and media outlets such as CNN, Fox News, MSNBC and HLN.
In October 2006, she founded her own law firm called Midwin Charles and Associates LLC, which specializes in civil litigation, commercial litigation, general corporate law, and criminal defense. The firm has been operating for over 10 years, with Charles acting as the Managing Principal.
Outside of TV and legal work, Midwin was also a guest host on the 'Express Yourself' show which aired on the 107.5 WBLS radio station. She began hosting in March 2011 and gave the listeners useful advice on various social, political, and legal issues while also interviewing special guests and taking individual calls.
Moreover, Midwin was also a contributor for outlets like the Huffington Post and Essence and has written several articles such as "We All Have the Right to Live," "Governors Gone Wild" and "Revenge of the Wives."
Interesting Facts, Height & Trivia :
Midwin was an avid user of social media and has over 20,000 followers on her Twitter account. Charles uses Twitter as a platform to discuss various social, legal and political issues in addition to highlighting aspects of her Haitian culture.
She has been a contributor to Women in Entertainment Empowerment Network (WEEN) and The Haitian Roundtable (HRT) organizations.
The Haitian Times had added her in their list – Thirteen Haitians to Watch in 2013.
In early 2020, she asked President Trump to "Go Out & Read a Book, and Get off the Golf Course", after he had made some comments on African countries. She also termed the comments as 'outrageous' and 'degrading'.
As a kid, Midwin suffered from Asthma.
Midwin Charles Cause of Death / How did Midwin Charles Die?: Was not revealed by her family. On Twitter, many speculated that she had taken the first shot of the COVID vaccine and had been sick ever since. Some other theories speculate that the reason for her passing away might have been a car accident?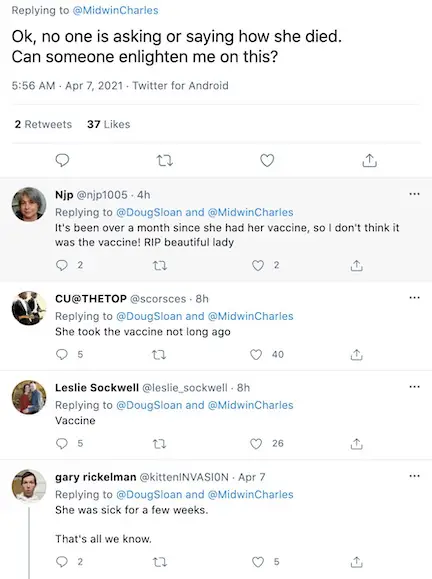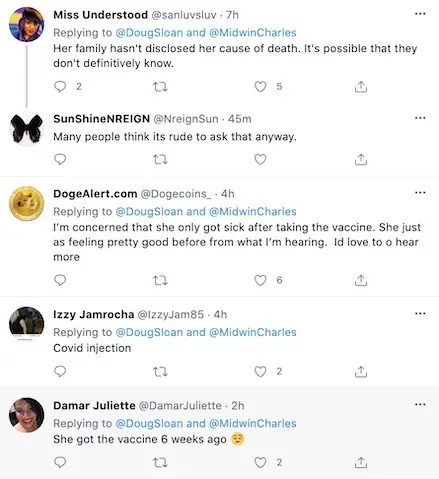 Marriage & Wedding / Husband / Engaged / Partner
She was not married.