Name
Abhinay Berde : अभिनय बेर्डे (Full Name : Abhinay Laxmikant Berde)
Also known as
Abhinev Berde
Age / How old / Birthday / Date of Birth / DOB
3rd November 1997. As of 2023, he is around 26 years old.
Marital Status / Wedding & Marriage / Family
Currently not married, possibly single. Check the full bio for relationship details. His family included his parents – Marathi superstar Father Laxmikant Berde, who passed away in 2004 and mother
Priya Berde
. He also has a younger sister named
Swanandi Berde
.
Wikipedia Biodata / Profile Background
Abhinay Berde is the eldest son of Actor Laxmikant Berde and actress Priya Berde.
Personal Life : Parents, Family and Education
His family also includes his sister Swanandi and older Uncle Ravindra Berde. He was only seven years old when Laxmikant passed away in 2004. The unique thing is that he also shares the same birth date with his father. His mother reentered the world of acting to take care of the young children after this. Lakshya's production house, Abhinay Arts was named after him.
While growing up, Swanandi and Abhiney Stayed in the same hostel and completed their education at the Sinhgad Residential Public School in Pune. Later, he began his studies in Arts at the Mithibai College in Mumbai.
There were reports that He was supposed to make his debut in the movie Zapatlela 2, but this didn't happen. The movie was directed by his father's friend actor-director Mahesh Kothare and later starred Adinath Kothare in the lead role.
This movie was a sequel to the superhit Zapatlela, which made Tatya Vinchu and Lakshya as memorable characters in Marathi cinema.
He finally made his debut in Marathi Cinema in 2016, with the movie Ti Sadhya Kay Karte.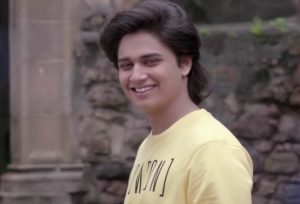 Abhinay's hobbies include dance and martial arts.
Natak / Plays / Movies Acted
Bhog – Ekankika
Ti Saddhya Kay Karte (2017) – Movie