Name
Jane McGarry
Wedding & Marriage / Husband / Engaged / Fiance
Most likely she is married. In a past interview done by a house building magazine, Jane had mentioned her husband's name as Kevin.
Wiki Biography / Profile Information
Introduction :
Jane McGarry, a middle-aged woman with blonde hair and brown highlights, is a talk show host for WFAA-TV, a Dallas based news station.
The anchor-entrepreneur has been in the industry for over three decades!
The versatile woman regularly posts on her own blog and owns a media consulting company.
Personal Life : Family, Parents & Education
Jane decided to stay in her home state for college & attended Southern Illinois University, a public university based in Carbondale, Illinois. She left the university with a Bachelor's degree in Political Science.
She lives in Dallas, Texas, and has one son, now into his late-twenties, named Michael.
She is an avid volunteer with victims of domestic abuse and sits on the board of the AiRS Foundation, which helps women recover from breast cancer.
Jane and her husband have built a gorgeous wood cabin in Big Sky, Montana, just down the road from the entrance to Yellowstone National Park. It was built for under $400,000 and is enjoyed by the McGarry family to enjoy skiing and other winter sports.
When she is not working, Jane enjoys playing golf, horseback riding, and skiing. In addition to traveling and cooking, Jane also enjoys interior design.
Early Career & Jobs :
WRAJ-AM & FM
McGarry's first broadcasting career truly began on the radio while she was still in Illinois. She broadcasted there for a few years while she was in college & had her own show.
WPSD-TV
She then moved on to Paducah, Kentucky, taking the job as the station's bureau chief.
McGarry then moved up to Cape Girardeau, Missouri, and got her first anchor position. She anchored the evening news.
KXAS-TV NBC5
In 1982, McGarry started at KXAS-TV NBC5 as a full-time reporter, then a lead anchor.
She anchored multiple programs, including NonStop Nightly, a 30-minute recap of the day's news; One on One with Jane McGarry, a one-hour prime-time show where she interviewed celebrities like entertainer Ellen DeGeneres and musician Willie Nelson.
She worked there until 2012, and still holds the record for being their longest-running female news anchor.
Departure from NBC5 :
In May 2012, Jane was pulled over near Lemmon, Texas, by a police officer for failure to signal, while she was driving back home.
She told the officer that she had three glasses of wine, and she was asked to perform sobriety tests. When she could not pass them, she took a breathalyzer and was tested for a blood-alcohol content level of .11, which is over the legal limit by .03.
She was jailed and sentenced to 18 months of probation, $1,200 in fines, and 40 hours of community service.
After the incident, NBC5 took her off the air. In July 2012, Jane left the station.
Recent Work, Salary & Net worth :
In March of 2013, McGarry got a new job at WFAA ABC8 as a co-host for their morning show Good Morning Texas.She has been working there for over the last few years.
In addition to her TV work, McGarry also has her own lifestyle blog called Realjane (dot) net.
She is also the owner and operator of Jane McGarry Media, a business which trains people in how to do on-air interviews and appearances, as well as how to create a stellar digital presence for themselves.
McGarry is the Founder and Editor-in-Chief of RealJane.net, a Dallas and Fort Worth-based lifestyle blog.
Body Info / Physical Features
Jane McGarry Measurements :
Eye Color : Brown
Haircut / Hair Color : Blonde
How tall / Height : No confirmed information available.
Feet / Legs / Boots / Shoe Size : No confirmed information available.
Pregnant ? : Currently, she is not expecting a baby.
Jane McGarry Weight Loss : There were many queries on Google and Jane's Twitter once had a post regarding this. See below.
Source : Twitter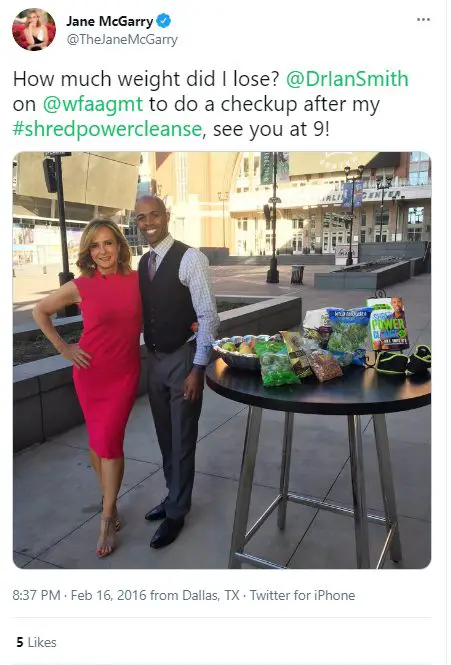 Jane McGarry Married? : Yes
Children / No of Kids : 1
Ethnicity / Origin / Heritage / Race : White
Nationality : American
Age / How old / Birthday / Date of Birth / DOB
As of 2022 she is around 66 years old. An old 2012 interview in Dallas News taken after her DUI incident, had mentioned her age as 56 back then.