Name
Sarah Freemark
Wiki Biography / Profile Background
Introduction :
Sarah Freemark, a brunette with a bright smile and even brighter blue eyes, is an anchor and reporter for CTV Morning Live, based in Ottawa, Ontario.
Personal Life, Parents and Family Details :
Sarah was born and raised in Ottawa, Ontario, and her love of the area is what prompted her to take a work position there.
She describes herself as a "small-town gal" and loves the outdoors, where she can often be found hiking with her dog, a boxer named Calaigh.
Freemark can also be found at numerous charity events, both with CTV and on her own.
Among those that are particularly special to her are the Canadian Diabetes Association, Ottawa Humane Society, and Hospice Renfrew.
When she's not out doing any of that, she's most likely on the court playing a pick-up game of volleyball or participating in Ottawa's club soccer league. She has even completed the Inca Trail in Peru.
Sarah's father (who celebrated his 71st birthday in November 2020) was one of the oldest climbers in the 2016 Machu Picchu charity climbing team. The father-duo had participated in the difficult hike.
Education : Qualifications, High School & College Info
Renfrew :
Sarah first began her collegiate journey at Renfrew Collegiate Institute, a high-performing high school that is made to give its students a leg up when applying for college.
She used her time at Renfrew to gain hands-on experience and was a community events reporter for Cogeco Cable for three years. She also hosted and produced her own show, The Great Outdoors, which featured fun outdoor activities viewers could do throughout Ontario.
Seneca :
After graduating from there, Freemark enrolled in the Seneca College of Applied Arts and Technology in 2005.
During her time there, she joined many clubs and societies, including the Woman's Varsity Volleyball Team, the Women's Varsity Outdoor/Indoor Soccer Team, and the SMILE Mentoring Program.
She was also nominated for the school's "Best Documentarist" award.
Sarah graduated in 2007 with honors and a degree in Broadcast Journalism.
Early Career :
One month after graduation, Freemark began working for the Chandran Media company as a host, producer, and reporter for CEO TV.
In August of 2008, she left Chandran & began working for the Ojon Corporation, specifically promoting their brand Estee Lauder. While working there, she was an on-air spokesperson who also travelled worldwide to conduct training sessions with customer service representatives, sales employees, and new hires.
Career, Income, Salary and Net worth :
In November 2010, Freemark began working for Bell Media as a reporter and anchor for the CTV Network.
There, she covered braking news and shared feature stories on local issues.
In September of 2011, she was promoted, and began covering news on CTV's new morning show, CTV Morning Live. The new show focuses on lifestyle pieces and things to do around Ottawa.
Sarah can be seen on the show weekdays from 6 a.m. to 10 a.m., or online.
She also began hosting a weeknight radio show on MAJIC100 100.3 FM, also under Bell Media, from 6 p.m. to 11 p.m.
Listeners and viewers can now catch her either on TV or on the radio.
In 2018, she joined SPARK lifecare team as their ambassador.
Health Update :
Sarah Freemark Illness / Sick : She has no major illness or sickness to date and seems to be in good health.
Age / How old / Birthday / Date of Birth / DOB
As of 2022, she is around 35 years old. In a February 2018 tweet, she had mentioned that she was around 31 years old. Sarah celebrates her birthday on April 8, each year.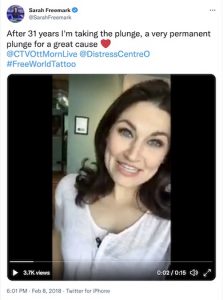 Wedding & Marriage / Husband / Spouse / Partner / Married
No confirmed information available.