Personal Details Summary
Name
Brandi Passante
Age / How old / Birthday / Date of Birth / DOB
May 16, 1980. As of 2023, she is around 43 years old.
Married / Wedding & Marriage / Husband / Partner
Currently dating. Check the full bio for relationship details.
Children / No. of Kids
2
Ethnicity / Origin / Heritage / Race
White
Nationality
American
Are Brandi and Jarrod still married?
Jarrod and Brandi were never legally married.
Bio Information / Biography Profile
Introduction :
Brandi Passante is an American reality TV star. She is one of the top-billed stars of A&E's show Storage Wars.
Family, Marriage and Children :
Brandi was born on May 16, 1980, in Harris County, Texas.
She has been with her partner Jarrod Schulz for over 15 years, and the two say they are committed enough that marriage is not a requirement.
Contrary to the way the show Storage Wars portray her relationship, she is not married.
They first met while both working in a carpet cleaning business in Tustin, California. At the time, they had both just gotten out of bad relationships, so they were hesitant to begin something straightaway.
They have two children together – A daughter named Payton Schulz & a son named Cameron Schulz.
Brandi Passante Storage Wars : TV Career and Store
After finishing the carpet-cleaning job where they met, Brandi & Jarrod tried their hands at running a mortgage business together.
When the mortgage business began to fail, Jarod's aunt suggested they look into the world of storage box foreclosures.
His aunt was, at the time, managing a storage facility & invited the couple to an auction that was taking place at her facility.
That auction sparked an interest in both, and they went on to open their own store, "Now & Then", located in Orange County, California. The store specializes in rare and unique homewares, and it is also where they sell their storage box finds.
After becoming regulars in the world of auctions, A&E network approached Brandi & Jarrod to appear on their show Storage Wars.
They emerged as the breakout stars of the show. Later, they were offered their own reality show 'Brandi & Jarrod: Married to the Job'.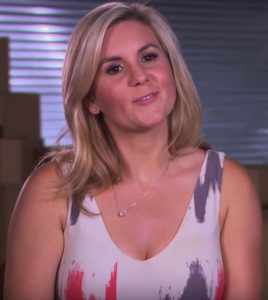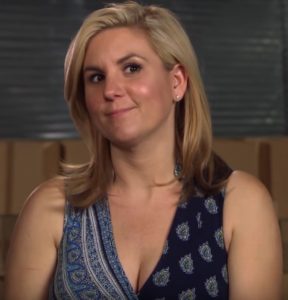 Lawsuit Controversy :
In 2011, Hunter Tyler Moore, the creator of revenge p*rn site IsAnyoneUp, began advertising that he had naked photos and videos of Brandi and would be circulating them.
Brandi was unaware of the video's existence until she began receiving creepy messages on Twitter such as "Can't wait to see more" etc.
As soon as she saw the video, she issued a statement through her lawyer claiming that it was not her in the photos or videos and that they had been doctored. She was even able to produce the original photos that they had cut her face from.
As a result of the false pictures circulating, she developed high levels of anxiety and became physically ill.
She sued Moore for defamation, invasion of privacy, and consumer fraud & sought $2.5 million in damages.
While the judge found in her favor, in large part due to Hunter not putting up any kind of a fight. The only damages she was awarded were her legal fees and a further $750. The judge stated although what Moore had done was illegal, Brandi had failed to provide evidence to justify the $2.5 million request.
➤➤ Click to Learn about other STORAGE WARS Cast Members!
Body Figure / Physical Info
Brandi Passante Measurements :
Eye Color : Blue
Haircut / Hair Color : Blonde
How tall is Brandi Passante Height : 5′ "8.
Brandi Passante Feet / Legs / Shoe Size : 8
Pregnant? : Currently, she is not expecting a baby.
Weight Loss : A few Google queries regarding this, but we couldn't find anything conclusive on any of her social media.