Name
Bailey Mosier
Birthday / How old is Bailey Mosier Age / Date of Birth / DOB
July 5, 1986. As of 2022, she is around 36 years old.
Wiki Biography / Profile Information
Introduction :
A golf analyst & anchor by trade, Bailey Mosier was a gorgeous brunette who was featured in the Most Beautiful Women in Golf list in 2016.
Early Life, Family & Marriage :
Bailey was born as Bailey Suzanne Mosier in the glittering city of Las Vegas, Nevada. She was born a Cancerian on July 5, 1986.
Parents : Danny (father) and Lynn Mosier (mother). She has two older brothers named John and Jeff Mosier.
Mosier got married to Brandel Cahmbalee on December 30, 2016, at the Arizona Country Club in Phoenix.
Brandel, who is originally from Irving, Texas, is also her co-host at Golf Channel. He is present at almost every major golf tournament and interviews golf players on-site and analyzes their game in detail.
Due to her work schedule, she currently resides alone in Orlando, Florida, in a house she had bought in July 2011 while her husband lives in Scottsdale, Arizona.
Education : Qualifications, High School & College Info
Growing up in Las Vegas, Bailey remembers nearly everyone in her graduating class planning to attend either UNLV (University of Nevada Las Vegas) or UNR (University of Nevada Reno). However, Bailey was adventurous and wanted to venture out from the state. This defined her life journey.
After finishing her high schooling in Nevada, Bailey joined the Old Dominion University. She completed her Bachelor of Science degree in Communications from the years 2004 to 2008. There, her major achievement was competing in the University's Women's Golf team.
During her undergraduate studies, she interned as a Customer Service Intern at Titleist for three months. She was also a sportscast intern at ESPN Radio for a period of nine months.
In the year 2008, she joined the Arizona State University to pursue her Master's in the discipline of Journalism. The course duration was one year, during which she interned at the Communications Department of "PGA Tour."
Professional Timeline : Salary & Net worth
Soon after graduation, Bailey started working as a Contributing Writer for Golf News in Scottsdale. She worked there till December 2010.
For the same period, she also worked with 'AVID GOLFER Arizona,' in the capacity of Magazine editor.
In September 2009, she co-founded an online media platform named 'BrokingNews,' which connected Freelancers and Publishers with one another. She was in charge of website management, development, marketing, and content production.
In October 2010, she joined 'EmpowHER' as a Writer & On-Camera Correspondent. She produced news videos on Women's health topics & wrote weekly blogs on the same.
Currently, she is the co-host of the show 'Morning Drive,' broadcasted on Golf Channel. She joined in the year 2011 as an Associate Editor. Sometimes, she also engages in on-site reporting for the channel during prestigious golf tournaments.
At the Golf channel, she is also in charge of hosting a diverse range of segments for 'Grill Room.' Grill Room is the channel's exclusive media platform showcasing a humorous side of the game.
In an interview, Bailey stated that it was always her dream to be a sports broadcaster. She still pinches herself every day that she gets to do this for a living. Never the one to take any opportunity for granted, whenever Bailey is asked to add more work to her, such as last-minute travel to an event or shooting something on one of her days off, she always accepts the task with a smile.
➤➤ Read About Other GOLF Presenters Here!
Interesting Facts & Trivia :
Bailey was featured in GOLF's 'Most Beautiful Women in Golf' list for the year 2016.
There is quite a big age gap between Bailey's partner and her. Branden was born in 1962 & Bailey in 1986.
She loves travelling, swimming, going to concerts and sporting events.
Her favourite movie is Star Wars Episode III and her favourite book is 'A Separate Peace'.
Possessing dark brown hair with stark grey eyes, she is of slender countenance and has fit physical features.
Bailey and her husband were once named 'Golf's Most Fashionable Couple' by Golf Magazine.
She made an appearance in an episode of the TV series documentary 'Inside Edition' in the year 2015.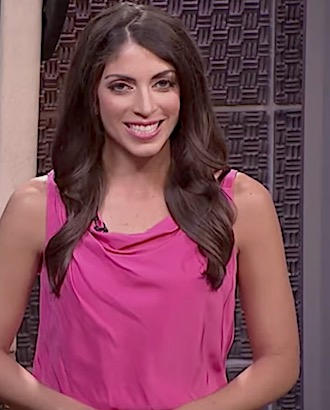 Body & Other Vital Info
Bailey Mosier Measurements :
Eye Color : Blue
Haircut / Hair Color : Dark Brown
How tall is Bailey Mosier Height : 5' 9"
Feet / Legs / Boots / Shoe Size : No confirmed information available.
Pregnant ? : Currently, she is not expecting a baby.
More Details :
Bailey Mosier Married? : Yes
Children / Baby / No. of Kids : —
Ethnicity / Origin / Heritage / Race : White
Nationality : American
Where is Bailey Mosier from? : Las Vegas
Wedding & Marriage / Spouse / Engaged / Fiance
Married to her husband, Brandel Cahmbalee.