Name
Kacie McDonnell
Birthday / Age / Date of Birth / How old / DOB
July 30, 1990. As of 2021, she is around 31 years old.
Biography Profile / Wiki Information
Introduction :
Should only the supposedly knowledgeable male populace take up television reporting in the discipline of sports? Kacie McDonnell does not believe so! She has taken up the challenge quite boldly & been a great success!
Personal Life, Parents & Family Background :
Kacie was born on July 30, 1990, to parents – Michelle and Ken McDonnell.
Her hometown is Pottsville, Pennsylvania.
She has two siblings – Isabelle McDonnell and Lochlan McDonnell.
Kacie is a former hockey player.
Since 2015, she has been dating Eric Hosmer, a professional baseball player. In October 2020, the couple got engaged. Hosmer is a multi-millionaire, having signed a $144 million deal with the The San Diego Padres in early 2018.
Earlier, Kacie has been romantically linked to a number of partners including the ex-quarterback of the Minnesota Vikings, Christian Ponder (2011); the Phillies pitcher, Jonathan Pettibone (2013); and the quarterback for the Chiefs, Aaron Murray (2014).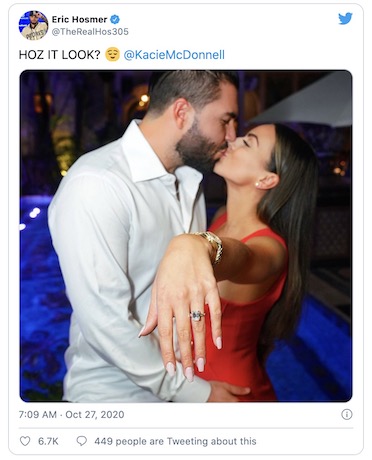 College & Education :
Kacie graduated with a Bachelor's degree in Communication and Specializations in Journalism & Media Production from Villanova University, in May 2012. Villanova awarded her a Curvey scholarship.
Kacie was a member of the Tri-Delta Sorority.
She was crowned Miss Teen Pennsylvania International in 2008.
She was the first runner-up at the national competition held in Chicago.
Kacie achieved this by collaborating with Silver Ring Thing" and performing on the platform of teen abstinence.
TV Career, Salary & Net Worth :
In 2012, Kacie started her career as the traffic anchor for the Fox 29's morning news program & Good Day Philadelphia show. She also engaged in sideline reporting, whenever football season came round.
Kacie also hosted The Trend, which offered a minute-by-minute account of trends across the worldwide web.
Thereafter, veteran anchor Mike Jerrick needed a co-anchor for his show, Good Day Philadelphia. Kacie filled the gap perfectly!
In 2014, Kacie moved to Kansas City from Philadelphia to work for KSHB-TV. Here, she started off in the role of traffic reporter for their show, 41 Action News, every weekday morning.
In February 2015, the soccer team Sporting Kansas City offered her two roles. Kacie would be sideline reporter, as well as pre-game and post-game host. Kacie quit her job in 2016
Later, she was a part of the Turner Sports team.
As of 2019, she is a reporter/anchor for NESN on the East Coast.
Interesting Facts & Trivia :
Although Jessup occasionally travels outside of London for her work, she does travel for pleasure & has visited places such as Singapore and Oz for vacation.
She also happens to have an eclectic taste in music and often frequents music festivals in the UK.
Some of her favorite musicians and music groups are Tommy T and the Belletones, Tom Billington, and Mohair.
Kacie has acquired multiple interests over the years, despite being enchanted with the sporting arena ever since childhood! She is indeed a living example of 'dream fulfillment'!
Body Info / Physical Features
Kacie McDonnell Measurements :
Eye Color : Brown
Haircut / Hair Color : Brown
How tall is Kacie McDonnell Height : 5′ 3″
Feet / Legs / Shoe Size : 7.5
Pregnant ? : Currently, she is not expecting a baby.
Married? : No
Children / No of Kids : –
Ethnicity / Origin / Heritage / Race : White
Nationality : American
Marriage & Wedding / Husband / Kacie McDonnell Boyfriend
Currently Engaged. See relationship details above.