Name
Lisa Mateo
Wedding & Marriage / Husband / Spouse / Partner
Married. Check the full bio for relationship details.
Wiki Biography / Profile Background
Introduction :
Lisa Mateo has been the weekday morning anchor, weather reporter and fill-in anchor on PIX11 for over a decade.
She also hosts Celebrity Taste Makers on Saturday evenings on WPIX Channel 11.
Her career began backstage as a production assistant for PIX11 making tea and coffee & operating the teleprompter.
Soon enough, Lisa was promoted to Entertainment Producer and began featuring as a weather anchor, reporter and became the helicopter traffic reporter.
One of her biggest achievements with the station was executive producing and hosting a series of travel specials on WPIX.
Besides her work on television, Lisa is also a nutrition coach and the Creator of Fitness Forward (a low-impact strength program)
Personal Life, Parents and Family Details :
Lisa comes from a proud Latin American Heritage.
Born in Brooklyn, she spent the first years of her life there. She has been living in New Jersey since fourth grade.
Her parents were born in Puerto Rico & moved to New York as children.
Her mother grew up in the Bronx and her father in Brooklyn.
Lisa is now a wife and mother of two children – An elder son & a younger daughter. Her husband, Jose Mateo, and she were college sweethearts, and have been married since September 1999.
Her children are both sporty & Lisa is kept on her toes taking them between to baseball practice, track events, ballet, and gymnastics classes, but her favorite way to spend the evening is a movie night at home with the family.
Education : Qualifications, High School & College Info
Lisa has been passionate about news & journalism since elementary school.
Her dream of writing stayed with her through high school where she wrote for the school newspaper.
Later, she wrote for the Rutgers University student newspaper while studying for her degree. Lisa graduated from Rutgers with a double major in Journalism and Communication and a minor in Spanish.
After college she began working in professional print journalism, her first job was with Suburban Trends where she reported on local events, breaking news and produced feature articles.
In 2013, Lisa decided to improve her knowledge in the field and returned to higher education at Kean University, New Jersey where she studied for a B.S. in Meteorology.
Lisa also holds a Weathercaster Seal of Approval from The National Weather Association & a Certified Broadcast Meteorologist Seal from the American Meteorological Society (AMS).
Interesting Facts and Trivia :
Although Lisa and her sisters learned to speak Spanish at school rather than from her family, she says that her passion for Latin culture, food, and music has played a big part in her life.
Lisa was even the on-air correspondent for 'Viva!,' a WPIX series about Hispanic Americans & in July 2017 she hosted the 32nd Annual National Hispanic Business Group Voyage Awards and Scholarship Presentation at Cipriani, New York.
One of her favorite dishes is a Latin one called Picadillo because it's healthy and simple to make. She prefers to use turkey instead of ground beef.
There is rarely a dull moment in Lisa's job, her feature reports for Pix11 had her learning acrobatics with the Cirque du Soleil, playing polo, working out at boot camp, bouldering, indoor skydiving & delivering live reports from the locations around New Jersey.
Body & Other Vital Info
Lisa Mateo Measurements :
Eye Color : Brown
Haircut / Hair Color : Black
How tall / Height : No confirmed information available.
Feet / Legs / Boots / Shoe Size : No confirmed information available.
Pregnant? : Currently, she is not expecting a baby.
More Details :
Marital Status / Married? : Yes
Children / No. of Kids : 2
Ethnicity / Origin / Heritage / Race : Hispanic (Latina)
Nationality : American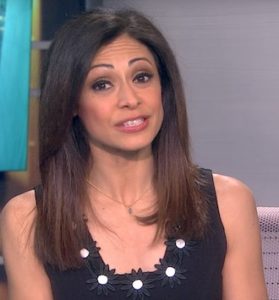 Birthday / Date of Birth / How old is Lisa Mateo Age
No confirmed information available on his birth year or the date she was born.