Name
Ava Sambora ( Ava Elizabeth Sambora )
Birthday / Date of Birth / How old is Ava Sambora Age
October 4, 1997. As of 2022, she is around 25 years old.
Wikipedia Biodata / Profile Background
Introduction : Who is Ava Sambora ?
Best known as the only child of "Bon Jovi lead guitarist" & "Melrose Place" actress, Ava Elizabeth Sambora is earning her own place in the public eye.
The finely shaped, young blonde is known as both a model and actress.
Her honest and bubbly personality made her a hit in the YouTube 'Summer Break' series while her 'cheshire-cat grin' is noted in her fashion shoots.
Ava Sambora Parents and Family Details :
Born in Los Angeles on October 4, 1997, Ava is the only daughter of parents Richie Sambora (father) and Heather Locklear (mother).
Despite her parents' divorce, the pair are still friends and in 2015 the three stars took a vacation together in Bora Bora.
Ava is the spitting image of her mother & very close to her famous father. The pair stood side by side for photos on the red carpet at theRadio Disney Music Awards in 2014.
Ava Sambora College Education & Fraternity
Ava studied at Viewpoint High School in Calabasas, California, where she graduated in 2015.
She completed her education at the Loyola Marymount University – A private college in Westside LA. Ava was a part of the Alpha Phi International Women's Fraternity.
She had previously planned to study at NYU, but after spending the summer of 2015 living in California, she decided to stay in her home state.
Career as a Model : Net worth and Salary
Ava got her first taste of modeling aged just 12, in 2010 at the Los Angeles Fashion Weekend Evet, when she took to the catwalk in her father, Richie, and designer, Nikki Lung's Spring 2011 'White Trash Beautiful' collection.
In 2016, the then 18-year-old returned to modeling, this time for a sexy bikini shoot on a Malibu beach.
Teenager Stephanie Princi designed the swimwear brand 'Baes and Bikinis.' At the time, Ava was vacationing with her father & his girlfriend, Orianthi.
Ava Sambora This is 40 & Other Roles :
In 2012, Ava took to the screen as Sadie's best friend 'Wendy' in Judd Apatow's comedy film 'This is 40'.
The movie received 11 nominations and won 'Comedy of the Year' at the 2012 Hollywood Film Award and 'Top Box Office Films' at the 2013 ASCAP Film & Television Music Awards.
She was also a part of the Disney comedy series 'Good Luck Charlie' where she played a teenage version of the star character, Charlie Duncan in an episode titled 'Future Drama'.
In 2015 Ava was a cast member in season 3 of the popular reality YouTube series, 'Summer Break', highlighting LA kids' summer adventures.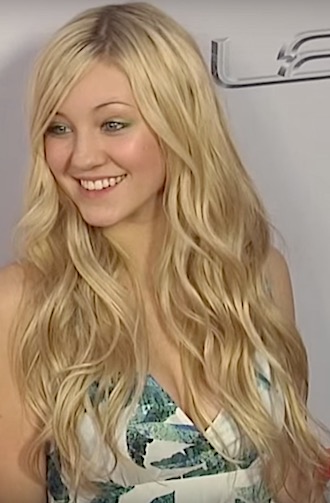 Interesting Facts, Height and Trivia :
Ava told Teen Vogue, that when she isn't standing behind the camera, she likes to get outside and go hiking to the 'Hollywood' sign & visit the pier and shopping at Santa Monica.
She loves going to music festivals and concerts and has already attended Coachella and Hard Summer Fest.
One of her favorite artists is Miley Cyrus.
Wedding / Husband / Dating / Marriage / Ava Sambora Boyfriend
Currently not married, possibly single. Check the full bio for relationship details.