Name
Dr. Rhonda Patrick
How old / Age / Date of Birth / DOB
Born in 1978. As of 2021, she is around 43 years old.
Marriage & Wedding / Husband / Spouse / Partner
Married. See below for more details.
Biography Profile / Wikipedia Information
Introduction :
Dr. Rhonda Patrick is an American biomedical scientist, researcher, entrepreneur, wife, and mother.
Personal Life & Family Background :
Rhonda Perciavalle Patrick was born in San Diego, California, in 1978.
She is married to husband Daniel since May 2012. The couple has one son together, born in mid-2017.
Early Life & Education :
In 1999, Dr. Patrick attended the University of California, San Diego.
She majored in B.S. Chemistry, Biochemistry, and did her graduate research at St. Jude Children's Hospital. Her research consisted of an investigation to see whether there was a link between mitochondrial metabolism, apoptosis, and cancer.
She also served as the Vice President of the American Chemical Society.
After receiving her degree, she decided to augment her qualifications. She pursued her Ph.D. in Biomedical Science at the University of Tennessee – Health Science Center in Memphis, TN, in 2006. One of the most cited scientists, Dr. Bruce Ames, was her mentor.
Rhonda's postdoctoral fellow began in 2012 at the Children's Hospital Oakland Research Institute (CHORI). Her research subsisted on the effects of micronutrient deficiencies on inflammation, aging, metabolism, and DNA damage, and whether supplementation could repair the trauma.
Work, Salary & Net Worth :
Dr. Patrick co-founded her company, YouTube channel and website, 'FoundMyFitness' in 2012. This is where her audience started gaining an insight into her latest research about psychical performance, the brain's well-being, aging and nutrition.
On her YouTube channel, followers can watch hours of interviews with leading professionals in medical and scientific fields.
Dr. Patrick's dissertation findings were published in the 2012 issue of the journal 'Natural Cell Biology'.
In 2014, she published a paper in the FASEB Journal on how vitamin D regulates serotonin synthesis & how it relates to autism.
Rhonda was invited on the Joe Rogan Experience podcast a number of times where she has spoken about and debated a wide range of scientific topics with Rogan. The video received over 2.5 million views. A second video where Rogan and Rhonda discuss time restricted eating gained over 3.75 million views.
She has also been interviewed by other popular podcasts such as The Tim Ferriss Show, Dr Mercola etc.
Diet, Supplements, Smoothie Book :
Dr. Patrick has discussed her diet & health routine in a few interviews on Joe Rogan Experience and other podcasts. She practices 'time-restricted feeding,' also known as 'intermittent fasting,' where she fits all of her meals and calorie intake into a ten-hour eating period.
Her diet consists of almost entirely fruit, meat, vegetables, and fish, avoiding grains and refined sugars such as junk/fast food, bread, rice, and pasta.
To enhance her diet with micronutrients and prebiotic fiber, she consumes smoothies daily to increase her raw vegetable intake.
She also has a list of few supplements she takes daily, including Vitamin D3, Vitamin K2, Fish Oil, Omega-3 Phospholipids, and Magnesium, to name a few.
Body Info / Physical Features
Dr. Rhonda Patrick Measurements :
Eye Color : Brown
Hair Color : Brown
Height : No confirmed information is available.
Feet / Legs / Shoe Size : No confirmed information is available.
Pregnant ? : Currently, she is not expecting a baby.
Dr. Rhonda Patrick Weight Loss : There were many queries on Google and Rhonda has often posted on Twitter regarding this. See images below.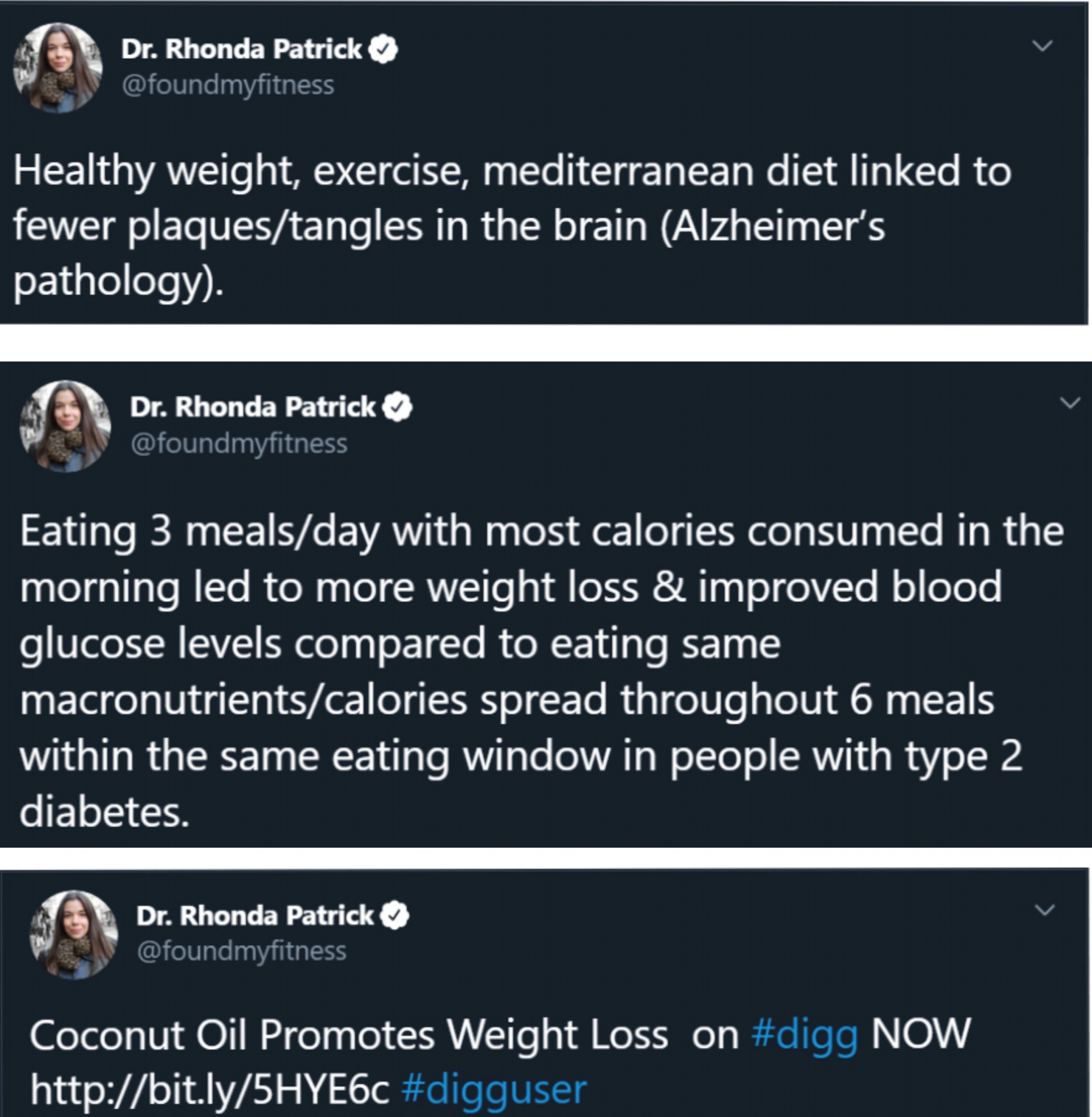 Dr. Rhonda Patrick Married ? : Yes
Children / No of Kids : 1
Ethnicity / Origin / Heritage / Race : White
Nationality : American