Name
Sapna Vyas Patel : सपना व्यास पटेल
Birthday / Date of Birth / How old is Sapna Vyas Patel Age
Born in 1986. As of 2023, she is around 37 years old.
(She had mentioned in a newspaper interview that her age was 23 in 2009)
.
Dating / Wedding & Marriage / Husband / Spouse / Partner
Married. Check the full bio for relationship details.
Wikipedia Biography / Profile Background
Introduction :
Sapna Vyas Patel is an Indian fitness & nutrition expert and YouTube blogger, who is famous for losing 33 Kg in a single year without the use of artificial substances.
Early Life, Education and Family : Sapna Vyas Father
Sapna was born in 1986. She has two elder brothers & is the only daughter of her parents.
Where is she from : Ahmedabad, Gujarat.
Parents : Daughter of Gujarat's health minister from 2007 – 12, Jay Narayan Vyas.
Education : Bachelor of Psychology, St. Xavier's College (Passed in 2008) ; MBA From Nirma University (Passed in 2010) ; Doctorate in Nutritional Science and Dietetics (Passed in 2015)
She is also a "Reebok Certified Fitness Professional."
Weight Loss Transformation : From Obese to Amazing Figure Size
At the age of 19, Sapna weighed a hefty 85 kgs & had 36 inches waistsize.
When she was playing with her young niece, somebody asked her if she was her daughter!
This changed her attitude drastically & she commenced her weight loss plan. Though she first started naively on a crash diet, the weight she lost was gained back quickly.
Later educating herself, she moved on to a strict nutrition based health plan, she dropped to 53 Kgs & brought her waist size down to an ideal 24!
One of the surprising things was that at the end of the journey, she did not have stretch marks or any other side effects.
Going Viral & Social Media Fame
Back in 2009, after her epic weight loss journey, one of her videos "This Girl will Shock You!"" went viral & got a huge number of views.
Sapna soon started running her Facebook page & YouTube channel, which she uses to share her weight loss plan, diet chart & other fitness tips.
In 2017, Assam's MLA Angoorlata Deka picture went viral, but later it was found that they were actually Sapna's pics.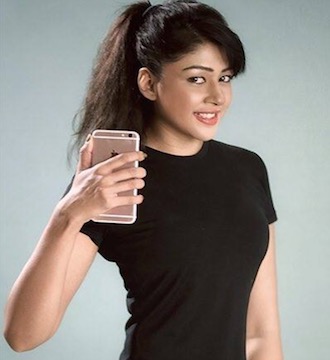 Social Media Presence :
Sapna has Instagram, Twitter (now called X) and Facebook accounts.
As of 2019, her most popular account is Instagram with more than 10 Lakhs followers. She has 50,000+ followers on Twitter (now called X) & more than 150,000 followers on Facebook.
She uses all her accounts regularly. The information she shares is usually about her training programs or workout schedules.