Name
Beverly Hallberg
Birthday / Age / Date of Birth / How old / DOB
November 20, 1979. As of 2021, she is around 42 years old.
Biography Profile / Wiki Information
Introduction :
Beverly Hallberg is an entrepreneur & a well-known media training expert with over ten years' experience within broadcasting and the media. Her work involves preparing people 'to be their best self' on-camera in both vocal and visual delivery.
Personal Life, Parents & Family Background :
Beverley was born in Hollister, California, but now lives in Washington D.C.
Early Life and Education :
Growing up, Beverley became interested in politics through her father. He was the mayor of their community for two years and sat on the council for eight years. The way her father responded to critics taught her a great deal.
Beverley has shaped herself to use humor in communication through the works of P.J. O'Rourke and Jonah Goldberg.
Hallberg graduated college from a non-Ivy League school and consequently had Zero-debt. Post-graduation, she moved to Washington D.C with just $400 in her pocket!
Career, Income, Salary & Net Worth :
Between 2000 and 2008, Beverley was the Director of Operations, at the Leadership Institute Studios in Arlington, Virginia.
Here she cut her teeth editing, producing and directing numerous TV and radio shows. Her first anchor came at this time for the weekend sports program for Salem Radio Network News.
In 2007, she became the Co-founder of Media Minds, alongside Molly Thrasher. Media Minds is an organization to help freedom-loving individuals to make videos and films.
Since 2008, Beverley has been the President of the District Media Group, which is her own company. She mentions starting District Media Group in Washington D.C. has been her most important career moment! The business celebrated its 12th anniversary in April 2020.
Her specialty lies in preparing members of Congress, state legislators, CEOs, journalists, academics and entrepreneurs for media interviews and public speaking engagements.
Beverley now travels the world assuming speaking and training roles at conferences.
Between the years 2016 and 2018 she became a Visiting Communications Fellow for The Heritage Foundation in Washington D.C
Beverley is also an accomplished writer with many of her articles appearing in publications such as The Washington Examiner, The Federalist, The Daily Signal and The Hill.
Trivia & Fun Facts :
Beverly's favorite movie is Citizen Kane, as at the time it pushed the boundaries of storytelling.
She can identify with the sitcom 'The Office.' Her musical tastes are varied but Beverley really likes 'Monsters and Men'
Cake is another of Beverly's favorites – she loves any type of white cake with a buttercream frosting!
Her bucket lists consists of a trip to Australia and New Zealand.
Beverly has a dog called Dray who you can follow on Facebook, Twitter (handle @DmgDray) and Instagram.
She loves the Golden State Warriors basketball team.
Someone who fascinates Beverly from recent history is the former British Prime Minister Margaret Thatcher. She says there is a great deal we can learn from her conviction and communication style.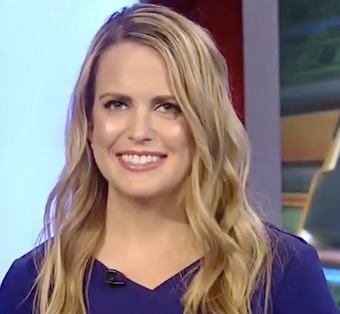 Body & Other Vital Info
Beverly Hallberg Measurements :
Eye Color : Blue
Haircut / Hair Color : Blonde
How tall is Beverly Hallberg Height : 5′ 6″
Feet / Legs / Shoe Size : No confirmed information available.
Pregnant ? : Currently, she is not expecting a baby.
More Details :
Married ? : No
Children / Kids : —
Ethnicity / Origin / Heritage / Race : White
Nationality : American
Marriage & Wedding / Husband / Spouse / Partner
Currently not married.