Name
Christie Brimberry
Biography Profile / Christie Brimberry Wikipedia
Introduction :
Christie Brimberry is an American public figure. She is the office manager and assistant to Richard Rawlings at Gas Monkey Garage.
The garage and its staff are featured in the reality TV show Fast and Loud produced for Discovery Channel.
Personal Life & Family Background :
Born on March 25th, 1972, little is known of Christie's early life.
She now lives in Dallas, Texas, with her husband, Daren Brimberry and their six children. The couple have been married for twenty years.
It is Christie's second marriage. She was a divorcee before but no information is available about her first husband.
Her eldest son, Malik Grinage, graduated from college in May 2016. Her second, is a daughter, Jordan who is two years younger than Malik.
Jordan is a dancer and won an MA National Dance competition in 2016/2017. Christie proudly posted these milestones of her children on her social media accounts.
The Brimberry family also includes a collection of dogs.
Christie herself is a dedicated dog lover and has two bulldogs named Lulu and Hank the Tank. She has another dog named Tyson and in April 2017, adopted a Rhodesia Ridgeback named Sydney.
Office Manager at Gas Monkey Garage : Job & Net Worth
Christie's husband is actually Richard Rawling's hairstylist & asked Richard one day whether Christie could have a job.
She joined the Gas Monkey Garage in 2012 as an office manager and now assistant to Richard.
With her blonde pixie haircut, curvaceous body and tattoos, Christie is a definite favourite amongst fans of the show.
Videos & photos of Christie on the garage's website gets a lot of "likes" and "comments".
She is known for her no-nonsense managerial demeanor, a tough negotiator & describes herself as a 'zookeeper', keeping the 'monkeys' in check at the garage.
Her Tattoos :
Christie has a full sleeve tattoo on her right arm which attracts a lot of attention.
She usually goes to two local tattoo artists, Stephen Hibbs and Mark Thompson.
However, her favourite tattoo is her fist one, the one on her ankle.
Christie goes on to say it was probably the worst tattoo she has, but it constantly reminds her of how stupid she was when she was 18!
Charities and Notable Causes :
Christie supports the non-profit organisation Sons of the Flag, who provides support to burns victims. It is a cause near to her heart and her social media posts often show her participating in fundraising activities.
She also tweeted donation appeal for Kidd's Kids, a children's charity who wants to make a difference in the lives of children and their families who were dealing with life altering conditions.
Christie clearly identifies with the veterans community. She took part in the 22 days push-up challenge & posted Facebook videos of herself doing push-ups for 22 days, even on days she was unwell. It was to raise awareness to the veteran suicide epidemic. On an average, 22 veterans commit suicide due to depression and PTSD.
She also raised awareness about thyroid cancer after she was diagnosed with the disease in August 2016.
Her fight with Cancer :
In October 2016, Christie posted via her Facebook that she was diagnosed with thyroid cancer.
She had visited her doctor in late August when she discovered a small knot in her throat.
It proved to be cancerous and she underwent surgery to remove her thyroid, lymph nodes and part of the trachea.
During the surgery, the nerve of her voice box was severed and the doctor advised she could not talk for 8-12 months.
She underwent further surgery and radioactive therapy for the whole of 2017. Christie was publicly vocal about her cancer treatment, in hope that this will raise awareness. The costs of her cancer treatment was astronomical and friends, family and fans were quick to support her.
On 4th December 2017, she announced on her social media she went for her treatment last week and had her one year bone scan on Friday. The results showed that she was cancer-free. Christie thanked everyone of their prayers, encouragement and positive thoughts over the past year.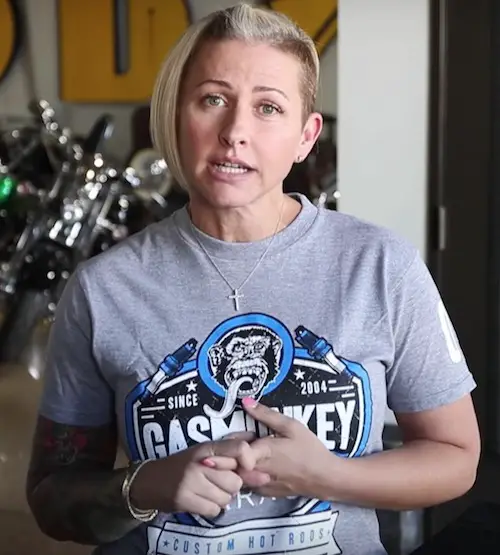 Marriage & Wedding / Husband / Engaged / Single
Currently Married. See above for details.
Birthday / Age / Date of Birth
25
th
March 1972. As of 2019, she is around 47 years old.