Name
Osby Berry
Age / How old / Birthday / Date of Birth / DOB
October 14, 1988. As of 2023, he is around 35 years old.
Wiki Bio / Profile Background
Introduction :
Osby Berry is a Christian singer and songwriter. He is also a music producer and a member of a collaboration of worship leaders, Cross Worship Music.
Personal Life, Parents and Family Details :
Osby Berry was born on October 14, 1988, in Cincinnati, Ohio. He is the son of parents Osby Berry, Sr. (father), and Darlene Berry (mother).
He had an older brother, Mario Lamont Matthews, who tragically passed away in August 2019.
Osby married Shelea Berry on July 19, 2014. He first met Shelea in May 2013, and the two got engaged on November 9, 2013.
Osby has two sons – J'aiden (born in November 2011), with his ex-partner Ronnise M. Showes, and Ju'dea (born in September 2009), his stepson with his current wife, Shelea Berry.
Berry has stated that his stepson, Ju'dea, foresaw that Osby would become his stepfather the very first time they met when Ju'dea was only three years old!
Currently, Osby resides in Dayton, Ohio, with his wife Shelea and their family.
Education : Qualifications, High School & College Info
Osby attended Colerain High School just outside Cincinnati, Ohio, from 2003 to 2007.
From 2007 to 2008, he went to the Cincinnati State Technical and Community College, where he studied Audio/Video Production
From May 2015 to June 2017, he also studied Music at the Sinclair Community College in Dayton, Ohio.
Church Tour, Songs and Net Worth :
Osby has been praised for having a special voice that stands out in its vocal quality. He first achieved a great deal of popularity when his version of 'So Will I,' originally by the Hillsong Church's musical group, went viral.
He has since been a member of Cross Worship, a group that travels the country to minister the word of God through song.
Osby has also been a member of Tommy McGuffey's band, Tommy McGuffey & True Worship.
Currently, Berry is the 'Minister of Music' at the Aspire Church in Dayton, Ohio, as well as a keyboard player for the Valley Peace Missionary Baptist Church, also in Dayton, Ohio.
He is said to be working on his first album, which is set to be released soon.
Interesting Facts and Trivia :
Osby has collaborated and performed with a wide array of artists: Tonya Baker, Marvin Sapp, Anita Wilson, Dorinda Clark Cole, Myron Butler, and Victoria Tunde.
He has also been a member of the Gospel Music Workshop of America's chapter in Dayton, Ohio.
In 2018, Osby was the only male finalist on the 'Voice of Victory' competition hosted by the Voice of Victory Church.
He is represented by the artist management company, On Beat Management.
In June 2019, Osby went through weight loss surgery at the Sycamore Medical Centre in Ohio. He has since lost over sixty pounds and is continuing a strict workout and diet regime, and he has now been taken off his diabetes medication.
Osby took his first flight in 2005, and he now frequently travels by plane across the country to minister through his God-given talent.
Personal / Home / Contact Details
Osby Berry Married? : Yes
Children / No of Kids : 2
Ethnicity / Origin / Heritage / Race : Black
Nationality : American
How tall / Height : No confirmed information available.
Osby Berry Weight Loss : There were many queries on Google regarding Osby's weight. He went for a weight loss surgery in Ohio. He lost over 60lbs after surgery by working on his diet and a strict exercise routine. Osby posted on Instagram regarding this.
Source : Instagram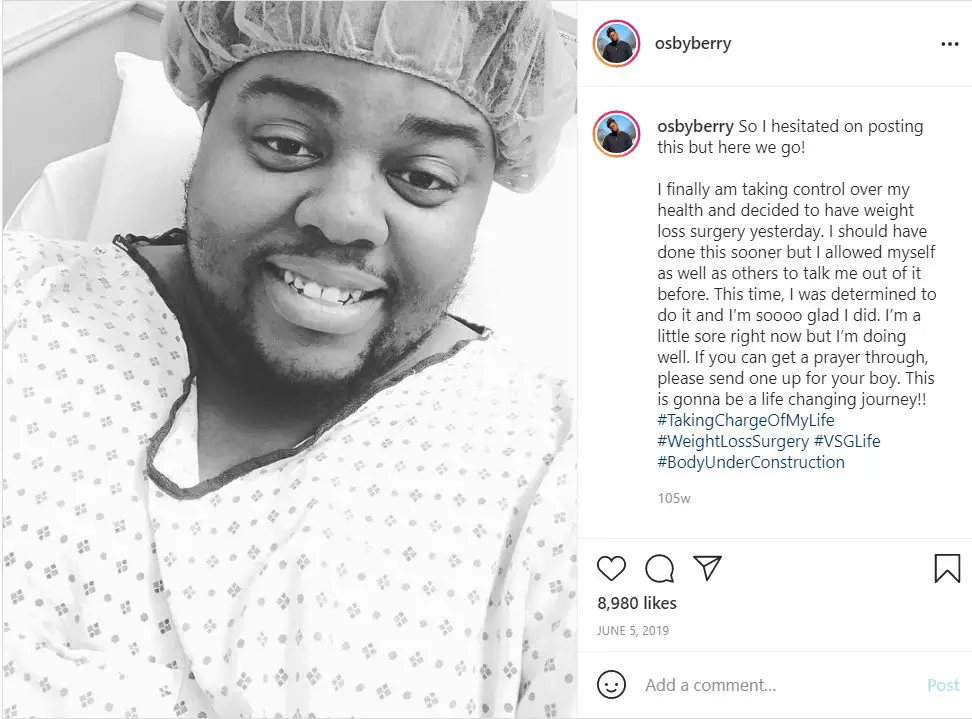 Wedding & Marriage / Wife / Engaged / Spouse / Partner
Married. Check the full bio for relationship details.