Name
Sara Gonzales
Wedding & Marriage / Husband / Engaged / Partner / Boyfriend
Married. Check the full bio for relationship details.
Wiki Biography / Profile Background
Introduction :
Sara Gonzales is a writer, editor, and conservative political commentator originally from Houston, Texas.
Outspoken and passionate about her views, Sara is determined to share her opinions and thoughts despite constant opposition from people who don't agree with her.
Personal Life, Parents and Family Details :
Gonzales was born in Houston, Texas. Her family moved from Houston when she was 5 and relocated to Plano, Texas.
Sara was raised in a family with conservative parents but only gained the confidence to publicly share her opinions and values when she was seventeen.
She has a son and has spoken about the challenges of keeping up with him while also trying to build her career.
Education : Qualifications, High School & College Info
Gonzales was a Drama and Theatre student in high school and also got a chance to explore the world of forensic investigation through a Garland Police Department internship.
She was voted "Most Likely to Become an International Pop Star" in high school.
Later, she attended Texas State University and graduated with a Criminal Justice major and a Forensic Psychology minor. During her time in college, she was passionate about taking part in political events on campus.
Career, Job, Salary and Net Worth :
After graduating from university, Gonzales spent some time jumping from job to job before finally becoming a licensed Health Insurance Broker. She currently owns her own firm, which is based in Texas.
In October 2015, she began working as a writer for RedState. Her very 1st article was about a Texan man named Chris Dunn who, according to Sara, was ruled "not worth being saved" by a local hospital.
She continued working for RedState as one of their Contributing Editors and wrote several other articles for them.
In this time, she also wrote for other publications and platforms including The Blaze. Gonzales has only ever written for right-wing platforms since she herself aligns with the ideology.
During the 2016 Presidential election, Gonzales contributed to many such platforms focusing mainly on issues like Women's Health, Immigration, and Health Care policies.
In addition to being a writer and contributing editor, she is also a political commentator, producer, host, reporter, presenter, and journalist.
Gonzales regularly appears on Blaze's The Dana Show as a panelist and also operates her own personal blog where she discusses matters close to her heart in addition to sharing her opinions on various issues.
Currently, she works as the full-time producer and host of the "News and Why it Matters" show which airs on the network, The Blaze.
Fun Facts and Trivia :
In 2017, Sara revealed that she underwent a dramatic personal change after losing 100 pounds.
Gonzales considers pink to be her favorite color & 1984 as one of her favorite books to read.
When she is not working, Sara loves to volunteer as an animal rescuer and is especially fond of cats.
When it comes to her ideology, she considers Ben Sasse and Leon Wolf to be her mentors.
She enjoys using her social media accounts as platforms to share her opinions and views with people.
Body Figure / Physical Info
Sara Gonzales Measurements :
Eye Color : Hazel
Haircut / Hair Color : Brown
How tall / Height : 5′3″
Feet / Legs / Boots / Shoe Size : No confirmed information available.
Pregnant? : Currently, she is not expecting a baby.
Sara Gonzales Weight Loss : There were many queries on Google regarding this. Sara had once posted on Twitter regarding her 100lbs weight loss. See below.
Source : Twitter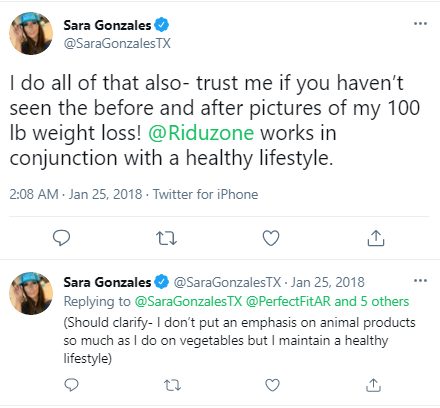 Marital Status / Married? : Yes
Children / No of Kids : 1
Sara Gonzales Ethnicity / Origin / Heritage / Race : Hispanic (Latina)
Nationality : American
Age / How old / Birthday / Date of Birth / DOB
No confirmed information available on her birth year or the date she was born.