Name
Meredith Garofalo
Wedding / Husband / Dating / Marriage / Boyfriend
Currently not married. See above for details.
Biography Profile / Wiki Biografia
Introduction :
Meredith Garofalo is an award-winning meteorologist & TV presenter who has worked for several networks. Besides her interest in weather, Meredith is also passionate about singing.
Personal Life :
Meredith is of Sicilian and Czech descent & grew up in Ohio.
As a child, she was extremely fond of music & even made her own songs. She was a regular at the choir & did numerous solo performances.
She has been dating Scott Wallace, is a home builder & a real estate developer (for more than two decades!). He is also an amateur chef and was seen in the Food Network show Cooks vs Cons Season 2.
Education & College :
Garofalo attended Trinity High School, a coed Roman Catholic college preparatory school in Garfield Heights, Ohio.
In high school, she was a part of the chorus & was also the "weather girl" on Trinity High School News, the school's televised morning announcements. She also played basketball, volleyball, and track.
After high school, Meredith attended Valparaiso University in Valparaiso, Indiana, from 2004 to 2008.
While there, she pursued her Bachelor of Science in Meteorology with a minor in TV and Radio Communications.
While at college, she was a part of many organizations such as the Kappa Delta Sorority, The Source 95.1 DM, Acabellas Acapella group, gospel choir, University Singers and The National Weather Association local chapter.
Career, Income, Salary & Net Worth :
As a senior in college, Meredith interned for a semester at WGN-TV in Chicago, Illinois.
She then did the Morning Weather Updates from December 2007 to June 2008 at WJOB AM 1230 in Hammond, Indiana.
After graduation, her first job was as a freelance reporter for Zanesville Times.
In January 2009, she was hired by KOTA-TV in Rapid City, South Dakota as a weekend meteorologist, anchor and reporter. She stayed there for almost 2 years until October 2010.
Garofalo then joined ABC 7 WWSB-TV in Sarasota, Florida, in February 2011 until February 2013 as a meteorologist, reporter and producer.
Meredith's next job moved her to Santa Barbara, California, where she worked from December 2013 to June 2017. While there, she worked as a weekday meteorologist for several companies and stations : The News-Press and Gazette Company on Fox 11, KEYT News Channel 3,KKFX, and KCOY Central Coast News.
In June 2017, Garofalo moved to Denver, Colorado, where she still works as a broadcast meteorologist for WeatherNation.
Awards & Acheivements :
Santa Barbara Favorite Meteorologist in 2016.
2016 Champion of Santa Barbara's Dancing Under the Stars.
2017 Community Partner of the Year from Make-A-Wish Tri-Counties.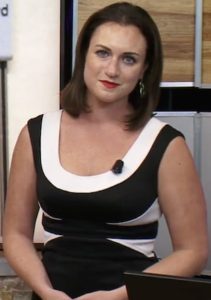 Interesting Facts & Trivia :
Meredith's favorite animals are horses.
Her favorite book is The Great Gatsby, while Grey's Anatomy is one of her favorite series.
From July 2013 to September 2013, Meredith was an actress with the Manatee Performing Arts Center in Sarasota, Florida. While there, she performed at Rizzo in "Grease."
She has sung the US National Anthem at more than 100 different events!
Body Info / Physical Features
Meredith Garofalo Measurements :
Eye Color : Blue
Haircut / Hair Color : Black
How tall / Height : No confirmed information available.
Feet / Legs / Shoe Size : No confirmed information available.
Pregnant ? : Currently, she is not expecting a baby.
Meredith Garofalo Married? : No
Children / No of Kids : –
Ethnicity / Origin / Heritage / Race : Caucasian. Mix of Sicilian and Czech descent.
Nationality : American
Birthday / Date of Birth / Age / How old / DOB
No confirmed information available.